Last updated on December 5th, 2018
Alfama's alleyways and streets are not always decorated for festas (Portuguese festivals), but the old district teems with life and there's adventure at every corner.
In Alfama, Lisbon's oldest and most historical district, walk with a Portuguese swagger and follow Pedrito and chum on the Gnarfgnarf trails. Elsewhere, stand tall in the light of the morning sun as you resist the calling of the sea breeze on your land lubber's legs. There's plenty of public transport to get you around the city, but try some of our walks as they are full of discoveries of every day life in Lisbon.
We've put up two walks for Alfama. Kids will love hide and seek in the winding maze of narrow alleys. Those adults with excess energy can run the whole stretch if they want, but that's not the way in Lisboa. You take it as life goes, doggedly and with some resignation, but you also enjoy the little cafes and local restaurants when the mood is right. You could spend a good half day on any of these walking tours, and you should as these itineraries are opportunities to breathe in the city's life.
A word of caution from Pedrito about meandering the mean streets late at night: as foreigners without the appropriate Lisboan swagger you will be easy pickings for the Alfama scum, so don't stick your nose where black cats can't see. Portuguese from the countryside have also been warned!
For those with fat purses and who still get their Christmas bonus, a walk from the luxury shops of Avenida da Liberdade (Liberty Avenue) down to Chiado will provide ample opportunities for splurging. This walk will also give you a splendid overview of Lisbon's historical landmarks.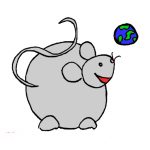 If you find our blog useful, please consider making a hotel or flight booking with our affiliate links. Happy travels!