Last updated on December 5th, 2018
Our Favourite restaurants in the Latin Quarter in Paris
Eating out in Paris is no longer cheap… well it's never been cheap but the locals can still find places where a beer is just a euro, or a plat du jour, dish of day, is still under ten euros. It's harder, but it's still possible, even in the Latin Quarter. The plat du jour should be beyond the standard steak frites (steak and fries), and offer some more sophisticated dishes such as coq au vin or cassoulet.
If you cannot find a decent restaurant, just head for the closest boulangerie, or bakery. It will have plenty of tasty sandwiches, take away dishes and cakes to eat. Alternatively look for grocery stores since they are bound to be loaded with delicious foods as well, and they usually have a deli section.
Mini-marts such as Franprix can be found almost anywhere. You can easily survive in Paris on croissants, chocolate éclairs, wine and cheese alone. And if the weather is gorgeous, there is nothing like a bit of wine and cheese at the Luxembourg gardens, or by the Seine.
The Quartier Latin offers plenty of deals since impoverished students inhabit the area, but it also has tourist traps where visitors flock.
#1 rue Valette, 75005 Paris – Tel (0)1 43 54 38 81
Crowd: Families and friends, workers on lunch break
Go for: Hearty traditional French cuisine
Tucked in the corner of rue Valette and rue de l'Ecole Polytechnique, Le Berthoud is a local bar/brasserie popular at lunch times and on weekends. For shy 17 euros, you get to choose between two formules: starters/main dish (entrée/plat) or main dish/desserts (plat/dessert). For most French people that would be more than enough food, thus the restaurant does not offer the option of a full three course meal. Piggies can still order the full three course meal for a supplement.
The appetisers are creative, with seafood and foie gras in prominent positions. The main dishes include lamb, fish, chicken or a huge slab of beef. With the exception of the fish, the meats are usually drowned in a generous buttery gravy. Because of cholesterol concern, one should not dine at le Berthoud more than once a month… Though the menu outside is only in French, the staff can provide a one sheet translation for English speakers. Sign language necessary but the service is unaggressive and laid back. A good introduction to traditional French cuisine.
#8 rue du Fouarre, 75005 Paris – Tel (0)1 43 29 40 99
Crowd: Students, bookworms and Rive Gauche intellectuals
Go for: Light meals and pastries
La Fourmie Ailée (the Flying Ant) is a historical building and a former bookstore. The refurbished salon de thé is rather trendy with its comfortable yellow sofas, wooden bookshelves and dimly lit cool atmosphere. La Fourmie Ailée is a cozy place for meals or afternoon tea. A selection of quiches served with salads start at an affordable 8 euros.
Try the rocquefort et noix (blue sheep cheese and walnuts), or the poireaux et lardons (leeks and bacon cubes), said to have been cooked for repenting vegetarians… The salads are fulsome and loaded with jambon (home cooked ham) or tournon saint Pierre goat cheese. Classic French food lovers will enjoy the blanquette de veau (veal stew). There are plenty of red, white and pink wines to enjoy. Those with sweet teeth will also appreciate the fruit tarts and the ubiquitous chocolat fondant.
#36 rue Mouffetard 75005 Paris – Tel (0)1 43 36 60 46
Crowd: Students and dilettantes
Go for: French crèpes with an Argentinean flair
Small, unpretentious and genuinely warm and friendly. If you need to sample sweet or savoury crêpes (thin large pancakes from Brittany) during your stay in Paris, Crêperie Oroyona on rue Mouffetard is an excellent pick. You'll be back for the student friendly prices and the smiles of the youngish staff who are generous with the fillings, in particular the hazelnut nutella paste. Get a bolée de cidre (bowl of cider) to wash down your galette de sarrazin jambon oeuf (buckwheat ham and egg) and your crêpe au sucre (sugar crêpe).
#2 place Saint Michel, 75006 Paris – Tel (0)9 79 71 80 79
Crowd: Fruits and salad lovers
Go for: Big cocktails and big seafood salads
If you like fresh fruits and vegetables, le Paradis du Fruit (the Paradise of the Fruit) will probably have something in store that you can eat. It used to be the trendy veggie place when it first opened in the 1980s. Success have brought several other restaurants conveniently located around Paris, so keep a look out in your daily expeditions of the landmarks (Champs Elysées, Opéra etc.).
Huge salads with exotic cocktails will fill you up and clean your system. The menu features a wide selection of shakes and juices, as well as alcoholic cocktails big enough to knock you out. The names of the dishes sound exotic but are really mainstream no surprise tasty. It gets busy and cramped on week-ends. Avoid Fridays and Saturdays if you're on a date, and if you don't like waiting in lines. Great view on the Seine and the small bookstalls of the Rive Gauche. Take a few snapshots of French branchés (hip) students, in their carefully studied casuals: leather shoes, blue jeans, and checkered sweaters.
#41 rue Monsieur le Prince 75006 Paris – Tel (0)1 43 26 95 34
Crowd: Students of Pataphysique
Go for: Ultra classic French brasserie
It is hard to get into more classic dishes and French traditions than at the Polidor, an institution of the Latin Quarter. This is where congregates the illustrious members of the College de Pataphysique, the science of imaginary solutions… Raymond Queneau, Max Ernst, Boris Vian, Eugene Ionesco all merrily enjoyed the Polidor as their canteen, as have other famous patrons since 1845.
The menu has probably little changed since French poets Paul Verlaine and Arthur Rimbaud gulped down their œufs mayonnaise. Don't expect candle lit dinner and Parisian romance. Le Polidor is always busy, loud, truculent and cramped. The prices have remained affordable, especially for the plat du jour, the dish of the day, starting at 12 euros. Come here everyday for a week and you will get a good idea of French traditional cuisine: blanquette de veau a l'ancienne (old school veal stew), bœuf bourguignon, joues de porc (pork cheeks). For those big eaters, le menu tradition at 32 euros will be hard to finish, and more likely finish them off. Wines aplenty from basics to fancy to choose from, but the pot de la semaine is usually a good swill.
#3 rue Racine 75006 Paris – Tel (0)1 44 32 15 60
Crowd: Tourists, families, business associates
Go for: Art Deco
For those watching their waistline, the carte of le Bouillon Racine may offer lighter versions of traditional French cuisine. A historical building (another one on our list of restaurant picks!) built in 1906 in the Art Deco style, the brasserie first catered to manual labourers and workers, offering them a meat dish and some bouillon (soup stock). Between 1962 and 1993, le Bouillon Racine served as a canteen of the Sorbonne. It was eventually entirely restored by the Compagnons, those skilled labourers following the tradition of the builders of French cathedrals… You've probably seen brasseries such as the Bouillon Racine in Hollywood movies, except that here every detail is authentic. Consequently, you'll have some tourists among patrons.
Start with the crème d'artichauts au foie gras (artichoke cream with foie gras), or the traditional soupe de poissons (fish soup with all the trimmings). Meat eaters will have plenty to choose from: cochon de lait (suckling pig), canette (female duckling), agneau (lamb) (fortunately Bambi is not on the menu). The food is good here, and it is closer to a modern light rendition of French cuisine rather than top heavy (although a relative viewpoint). Wash it down with wine and finish it off with a mojito ice-cream! The daily menu du marché at 15 euros includes two dishes and is a fatty good deal.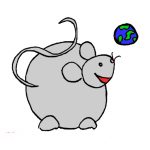 If you find our blog useful, please consider making a hotel or flight booking with our affiliate links. Happy travels!