Last updated on December 5th, 2018
Accommodation in Paris is notoriously expensive. Over the past couple of decades, many Parisians have had to move out to the suburbs and commute by RER or train to the city. Eventually, only the rich will be able to remain in Paris.
Even with the financial crisis, Paris real estate has kept its upward trend. Supply of flats is insufficient as Paris is artificially limited in its growth by le périphérique, the ring road that encircles it. You would not notice the difference between Paris and its immediate banlieue, except for a big jump in prices.
As a visitor to our wonderful, but expensive city, you are going to have to pay dearly for accommodation, just like the rest of us… Our hotel picks focus on the Latin Quarter and Saint Germain. The V and VI quarters (cinquième and sixième) are prized residential areas, but a fair number of students also hang around because of the high concentration of universities.
Is it possible to get a decent room around the Latin Quarter for less than 100 euros a night? Difficult and near impossible. We're still looking hard. There are some rooms going for 50 euros or less, well located, but we'd be hard pressed to put friends and family there. For hardy backpacking youth, it's okay…
For a first time visit, the Quartier Latin is an ideal location for sightseeing and a real slice of Paris. All of our hotel picks are centrally located, which means accessible by RER from both of Paris Charles de Gaulle and Paris Orly Airports, and a few minutes walk from Notre Dame, Saint-Michel, Sorbonne, Rue Mouffetard, Ile de la Cité, Odéon etc…
#44 rue des Bernardins, 75005 Paris – Tel (0)1 43 29 34 80
US $5 to US $10
EUR 25 (dorm bed), EUR 35 (shared double), EUR 50 (single)
Crowd: The young and the backpackers
Go for: A place to sleep in a great location
Don't let the antiquated acronym mislead you. The Bureau of the Travels for Youth operates a convenient hostel in the Quartier Latin, right next to the area's landmarks and party hotspots, but on a quiet side street between rue des Ecoles et rue Monge. BVJ Quartier Latin is for the young traveling on a shoe string. You don't get Scandinavian cleanliness or fixtures, but the prices are ok if you're willing to bunk-a-bed or bed-a-bunk. It's a hostel, not a five star, but it'll do as you'll hardly have time to sleep.
#66 rue Saint André des Arts, 75006 Paris – Tel (0)1 43 26 96 16
EUR 80 (single) to EUR 140 (quadruple)
Crowd: A true French experience, but still easy on the clueless traveler…
Go for: Old building in Old Paris
The Hotel Saint André des Arts is located at the heart of Saint-Germain-des Prés, and its mix of small nooked streets where you can't park, must experience gauche caviar cafés, and old buildings with artsy murky past. This family run establishment has some traditional French as well as global touches… But they're trying hard to speak foreign languages, albeit with accent so heavy their English sounds like French…
The old building has its charm, and the staircase was not made for the fat. The wooden support beams have been kept despite the renovation of the rooms. With breakfast included, their rates are near unbeatable for those value minded but like to sleep in clean sheets type. Add a historic touch and you have a postcard experience for your travel scrap book.
#11 rue des Ecoles, 75005 Paris – Tel: (0) 1 43 54 55 27
EUR 95 (single) to EUR 200 (quadruple)
Crowd: Families who don't want to break the bank but like it comfy
Go for: All the basics with some nice finishing touches
The two-star Familia Hotel just about fits our requirements under a 100 euro bill, and nice enough for our visiting grandparents. At about 95 euros for a single, and about 120 euros for a double with shower, it is an acceptable deal for this area of Paris. The prices have gone up a bit too steadily for our taste, so we'll keep our eyes peeled.Unlike others, Familia does not currently overcharge in the high tourist season, and internet rates are attractive without having to book months in advance. You get a professionally run establishment, some basic wooden furniture and a bed, a clean room, and a bit of charm with either stone walls or subdued mural paintings. The rooms under the roof have a nice view of the surroundings.
#42 rue des Bernardins, 75005 Paris – Tel: (0)1 46 34 13 00
EUR 90 to EUR 195 (triple)
Crowd: People who don't like bad surprises
Go for: Some comfort at affordable prices
The Agora Saint Germain is a mainstay of the mainstream hotel scene in the Latin Quarter at somewhere between 90 to 150 euros a night. We've had relatives and friends stay there before, and we were able to make use of the entirely refurbished bathrooms in their "comfort" room. Nice finishings and proper bathtub. What else do you get for that price? A flat screen, a kettle, a safe, a fridge and some toiletries. The room is standard size for Paris. You'll feel cramped if you're a bit on the fatty side. "Deluxe" rooms are a better deal for 20 euros more.
The Agora Saint Germain is actually a misnomer as it is closer to Notre Dame, thus, not at all in Saint Germain… Reception and lobby are non descript. Quiet side street, Maubert market around the corner, bakeries aplenty, rue Mouffetard a short walk up… you'll fit right in. As it can be difficult to get specials and internet deals during the high season, check out the nearby Hotel Sully Saint Germain as an alternative.
#7 rue Thénard, 75005 Paris – Tel: (0)1 43 26 78 36
EUR 100 to EUR 130 (double room with balcony)
Crowd: People who like it quiet
Go for: A tranquil snooze in a quiet street
The Hotel du Collège de France is housed in a typical Parisian turn of the 19th century stone building. Its main advantage is that, despite its central location in the Latin Quarter, it overlooks a rather sleepy street. Its namesake is one of France's most prestigious higher education and research institute. Unlike the Grandes Ecoles who pride themselves on selecting the best students (so they don't have to teach them much…), the Collège de France is free and open to all. The lecturers are outstanding academics, Fields medallists and Nobel laureates. Trick is, you don't get a degree from attending the Collège de France… it's all for knowledge!
The Hotel is not affiliated with the Collège, but simply located in its vicinity. You get the usual amenities: bathtub, flat screen, telephone, complementary wifi in a room of standard size. Nothing grand, but the rooms don't need quadruple glazing to keep the noise out. The atmosphere is studious and unexciting, which may be a good thing as you're in one of the most exciting districts of one of the most exciting capital cities in the world.
#75 rue du Cardinal Lemoine, 75005 Paris – Tel: (0)1 43 26 79 23
EUR 120 (single) to EUR 245 (double)
Crowd: Grandmotherly comfort and lace bed covers
Go for: Breakfast in your own private park
France is so very proud of its "prestigious" higher academic institutions, known as the Grandes Ecoles. These professional engineering and business schools form the cream of the crop of the Republic. Ecole Normale Supérieure (known colloquially as Normal Sup), ENA (Ecole Nationale d'Administration), Polytechnique (also known as X)… these names will be casually dropped by your French counterparts over a French onion soup… Nod in approval as if these were on a parity with Yale or Oxford or Keio. Ought you be honoured that the Gnarfgnarf Paris travel pages are written by contributors from these famed Grandes Ecoles? Not really… Even graduates from the Grandes Ecoles have a hard time finding jobs these days and find it harder still to compete with professionals from the emerging economies…
Never mind, head for the Hotel des Grandes Ecoles for a "quaint" and cutesy experience… The building is pinkish (as the website), but the extra room space takes your euros a tiny bit further… Having breakfast in your own private park before you hit the bustle of the Quartier Latin on a gorgeous spring day is pleasant. At night, hit the grandmotherly comfort of lace bed covers. It is understood that although some may find the old little mansions charming, others will revel in a more modern ambiance.
#53 ter quai des Grands Augustins, 75006 Paris – Tel: (0)1 44 07 70 00
EUR 250 (studio) to EUR 470 (one-bedroom flat)
Crowd: Business men, people who mean business, and people who want to cook
Go for: Apartments with modern equipment
The name is a mouthful, just ask for Citadines Saint-Germain… Having grown up in the Latin Quarter, we know that the V and VI districts of Paris are not famed for luxury palaces. Not enough space, too many small cramped streets. Should you really care whether the supposed four stars of Saint-Germain have original tapestries on their walls, or whether they figure prominently in the latest issue of a luxury travel feuille de choux (tabloid)?… or whether famous so and so really lived there… True to the Gnarfgnarf principles, we hunt for establishments where you get what you pay for… whether it's just a fifty euro note or three 100 euro notes.
Citadines is a chain of small apartments (apart'hotel) owned and operated by a large multinational firm. No fancy historic musty nooks. All kitchen equipped rooms have modern amenities and are serviced by accountable staff. A small fitness lounge as a bonus, and a view on the Seine. Sometimes you also want to put your feet up with some homemade pasta and enjoy a bit of television at home.
#7 rue de Nesle, 75005 Paris- Tel: (0)1 43 54 62 41
EUR 75 (single) to EUR 100 (double)
Crowd: Bohemians and world travelers
Go for: Lots of character(s)
Hotel de Nesle is the odd one out that does not fit anywhere on our list of Paris hotel picks for the Quartier Latin. It is cheap for its great noisy and bustling location, but is it good value for money? For two third of the price of the mainstay hotels in Saint-Germain and the Latin Quarter you get no phone, no lift, no TV (not even one of those 1970s sets) and most likely a shared bathroom. The singles used to be closer to 50 euros, but alas no longer.
This quirky establishment is straight out of a Royal Tenenbaum or Darjeeling Express scene, with cast included, all vividly coloured. If you do not speak French, you should make sure you are fluent in international sign language. For twelve euros you get an extra mattress, literally, an extra mattress with sheets, not a bed. Probably not fit for the planning type, although their website gives you a good idea of their superlatively original interior decoration… If you're in the area do check the rooms for a first hand experience. Who knows? could be love at first sight.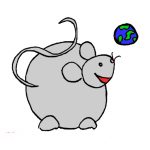 If you find our blog useful, please consider making a hotel or flight booking with our affiliate links. Happy travels!
---