Last updated on December 5th, 2018
Parisian students, like their counterparts in other countries, are big on ideals but short on cash. Unless they've been living under a rock and cooped up in a lab, any student in Paris is familiar with "restaurants japonais", the ubiquitous fake real Japanese restaurants that offer cheap yummy Japanese yakitori and sushi.
We call them fake as their menus are basic Japanese fare, but with some interesting local twists… They are also run by Chinese French entrepreneurs. We have friends who used to work for Vietnamese French and Cambodian French fake real Japanese restaurants. Confused? So were we at first!
Why wouldn't you want to run a Vietnamese or Cambodian restaurant instead? Parisians love exotic cuisines! Well apparently the logistics to have properly prepared dishes is far more cumbersome than if you only offer Japanese style grilled meats or fish rolls. And thus was the real French Japanese style casual eat born in Paris!
Fake real Japanese food has been around in Paris for as long as we remember, probably since the late 1970s. The latest Parisian trend in casual Asian food has been Hot Szechuan and healthy Vietnamese bo bun noodles… So keep your mouth watered while visiting Paris!
Good fresh Japanese style food at reasonable prices
So if they're not real Japanese restaurants, why go? Because they provide good Japanese yakitori, maki and sushi at prices students can afford! In fact, for quick casual eats, it's hard to beat fake real Japanese restaurants in Paris.
These are proper restaurants. For a few Euros more than a fast food joint, you get service, cutlery, and far healthier options than ground meat of unknown origin.
The picture menus are to the point. You see what you eat (more or less). Choose from Menu A to Z (not quite but almost). Menu A is the most basic and consists of 4 skewers (usually chicken meat balls, chicken breast), side salad, miso soup and rice. Menu B adds a few more skewers. One of our friends is a big eater and he orders Menu G!
Don't miss out on the "brochette boeuf fromage", the beef and melted cheese skewer, authentic Japanese yakotori for certain! Salmon, tuna and mackerel are also standard fare for those who prefer grilled fish. Vegetarians have plenty of maki options to choose from: avocado, cucumbers… Colourful California rolls also make a welcome appearance!
For those who like raw fish, there is also a separate set of combination menus. Some people order a boatload of nigiri, sashimi and sushi. Yes, your food comes onboard a model ship on your table. Like in Tokyo, right?
You can also order your skewers and sushi à la carte. Need only chicken meat balls? chicken wings? Ebi? Unagi? Hamachi? Anything is possible!
Sometimes aperitif or sake is on the house! Oui, super, merci!
Where to find fake real Japanese restaurants in Paris
Fake real Japanese restaurants can be found all over Paris, as they are staple casual eats. In the Latin Quarter, they are concentrated on Rue Monsieur le Prince, conveniently located close to the different campuses of La Sorbonne University. We started eating fake real Japanese food as students, and years later, we still have our lunch breaks there!
To get a good overview of this curious fake sushi street, start at Rue de l'Odéon and walk up Rue Monsieur le Prince towards Boulevard Saint Michel. Within 300 metres, you will get a bevy of Japanese food outlets, with a few French, Vietnamese, Indian, Szechuan and Mediterranean restaurants thrown into the lot. The Tibetan eateries are not on that street, they're more scattered over the Latin Quarter…
The names and the owners of the fake Japanese restaurants on Rue Monsieur le Prince come and go. So expect the signage to rotate continuously. But the restaurants and their menus remain by and large the same. Tokyorama, Tokyotori, Japotori, Japorama, Kyotori, Sushi Yaki, Yoko Rama and Itadaki are some of the strange French Japanese names of these fine establishments.
We don't have any clear favourite. The largest restaurant is located right at the end of Rue Monsieur le Prince, towards Boulevard Saint Michel. It is currently called Itadaki, but we've witnessed name changes over the years. We like it because it is large enough for prams and there's usually enough seating available.
On Rue Mouffetard, there are also a handful of fake real Japanese restaurants that serve near identical fare. But these establishments seem to be less well established than their Monsieur le Prince cousins. In the Latin Quarter, you're probably always within walking distance from a fake real yakitori and sushi restaurants.
Arigato beacoup!
If you're looking to sample more traditional French foods, check out our pages on French cuisine and traditional French dishes.  And if you're staying in the 5th  district of Paris, try one of our favourite French restaurants in the Latin Quarter.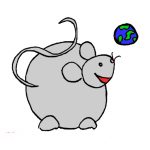 If you find our blog useful, please consider making a hotel or flight booking with our affiliate links. Happy travels!