Last updated on December 5th, 2018
One of my cousins is having his house built on the outskirts of Siem Reap, with view on Phnom Krom, the hill close to the floating villages on the Tonlé Sap. Last weekend, after a visit to see how the building was coming along, we decided to make a detour on our way back to Siem Reap, and visit Wat Athvea.
Wat Athvea is a small sandstone and laterite temple, close to the banks of the Siem Reap river. It lies about 6 km from the Psar Chas, the old market, in Siem Reap. We drove through back roads from my cousin's house, but from Siem Reap, it is easy to find by following the river. From the Psar Chas, drive downstream along the river, on the road to Phnom Krom and the Tonlé Sap. After a few kilometres, there is a secondary road on the right, with a concrete gate. This road leads to Wat Athvea.
If you do not have your own motorbike or car, Wat Athvea is close enough to Siem Reap to cycle to. Otherwise, around the Old Market, you can easily find a tuk-tuk or a motodup for the visit (see our blog post on transport in Cambodia).
Wat Athvea is believed to have been built under the reign of King Suryavarman II in the late 11th or early 12th century, about the same time as Angkor Wat.
I must say the towers at Wat Athvea do look like Angkor Wat's…
Wat Athvea always makes a pleasant stop. There usually are children playing around, and few visitors to Angkor actually make it here. The Wat is surrounded by greenery and sits just next to the modern pagoda (also called Wat Athvea and worth a visit), close to fields, and clusters of houses. If you are on this side of town in the late afternoon, you must stop behind Wat Athvea to watch the sun set over the fields and Phnom Krom!
A visit to Wat Athvea can also be done at the same time as a tour of Siem Reap's modern wats (pagodas), as most are along the Siem Reap river. For more, check out our Siem Reap Wat itinerary!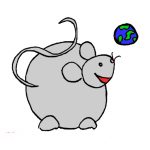 If you find our blog useful, please consider making a hotel or flight booking with our affiliate links. Happy travels!