Last updated on December 5th, 2018
When I was little, we had lots of pets : many cats, three dogs and a few hens. That's a lot of animals you must be saying!
Yes, maybe. But we did not have any ELEPHANTS!
After you visit Krol Romeas, Angkor's Elephant Circle, you will think that cats, dogs and a few hens is nothing!
Getting to Krol RomeaS
Krol Romeas, the Elephant Circle, remains a mystery today. It seems to be one of the only non-religious structures in Angkor to have been built in stone (and that has therefore survived Cambodia's tropical climate for hundreds of years).
Krol Romeas sits just off the road that leads from the North Gate of Angkor Thom to the Preah Khan. There is a small wooden sign reading "Krol Romeas" that points off the road. Here, head down a slightly steep embankment (it is easy to get down, but a bit more tricky to get out with a small motorbike like mine…), under some trees, and into a small clearing. This is the Elephant Circle!
Krol Romeas is enclosed by a crumbling wall, made out of big stone blocks. It is overgrown with shrubs and trees, but it is fairly easy to make out the circular, or rather oval, shape.
Remember crop circles or geoglyphs like the Nazca lines of Peru? This could be Cambodia's very own mysterious circle!
Rhinoceros or Elephant Circle?
Some archaeologists have imagined it to be an elephant corral. The name "Krol Romeas" actually translates as "Rhinoceros Circle", not "Elephant Circle"… But elephants might seem more fitting in the Angkor context! The animals would have been kept here, conveniently close to the Royal Palace. Just imagine the huge pachyderms being bathed, pampered and dressed up in finery ready for a royal elephant parade!
Other archaeologists suggest this was a hydraulic structure. They say Krol Romeas might have functioned with the Barays (Angkorian water reservoirs) and canals. It might have been used to control the water levels in the Eastern Baray, or simply as an extra water reservoir.
Elephant or rhinoceros enclosure? Hydraulic structure? Or perhaps a special temple with secrets yet to be unveiled? We'll let you decide for yourself.
Krol Romeas remains a quiet place to be discovered, away from the crowds. And it is a real pleasure to walk along and inside the enclosure, under the shade of the forest trees.
Sok Sabay!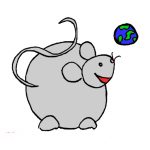 If you find our blog useful, please consider making a hotel or flight booking with our affiliate links. Happy travels!