Last updated on December 5th, 2018
Getting to Sambor Prei Kuk
It is dry season again in Siem Reap, Cambodia. This means it is out of town temple visiting season, when the most difficult muddy roads (nearly) become highways. Dusty, yes, but DRY!
For the season's first visit, we chose the pre-Angkorian site of Sambor Prei Kuk, close to Kompong Thom. The road is asphalt most of the way, so even if some parts are still wet, it will not be too much trouble to drive. We gathered a few friends ready to get a bit dirty, we girls got our best long sleeved shirts and kramas (traditional Khmer scarves) to protect our skin from the sun. And last Saturday, we piled up into one of our friend's old pick up, with some food, water, hammocks and mosquito nets. This is going to be fun!
We drove along National Road 6 from Siem Reap to Kompong Thom. Kompong Thom lies more or less half-way between Siem Reap and Phnom Penh. The main difficulty on National Road 6 is not the road itself. After the rainy season there usually are more pot holes, and the embankments are uneven, but that is OK. The main difficulty is usually some crazy drivers who like to overtake in bends, overtake an overtaking vehicle, or just drive across the National Road without looking! It is stressful for the driver, but here in the back of the pick up, we are enjoying the ride!
Three hours later we arrived in Kompong Thom in time for a steaming bowl of kouy teav sach ko (beef noodle soup) and café teuk doh koh teuk kor (iced coffee with sweet condensed milk). We had fun getting our non-Khmer speaking friends to repeat "teuk doh koh teuk kor" faster and faster! Hahaha!
The road from Kompong Thom to Sambor Prei Kuk is about 30 km, and starts 5 or 6 km North of Kompong Thom. At the fork in the road, go right (left on National Road 6 heads back to Siem Reap). There is a lot less traffic, the unpaved road is in fairly good condition after the rains and the countryside is peaceful. At the next fork in the road, we head right again. The road goes through a few villages, and we stopped to buy some bananas and rice steamed in sugar cane.
An hour or so later, we arrived at the guard house, just before the river and bridge. We had decided to take it easy on our weekend trip and wanted to spend the night close to Sambor Prei Kuk before visiting the temples the next day. We chit chatted with the guards who let us set up our hammocks with theirs in the guard house. Very soon we had a small barbecue going, and after a cooling dip in the river to clean off all the dirt from the road, everyone was having a good time.
The next morning, we headed to the temples.
Isanapura, Capital of Chenla
Sambor Prei Kuk, also known as Isanapura was the capital of Chenla in the 7th century. Most buildings were built under the reign of king Isanavarman I. The complex forms three groups : the North Group (Prasat Sambor), the Central Group (Prasat Tao) and the South Group (Prasat Yeay Poan). Buildings and walls are mainly in brick, a characteristic of pre-Angkorian structures, but also have sandstone elements.
There are many things that make Sambor Prei Kuk special. The temples are scattered in a shady forest, and the distances make it possible to walk from one group to another. Be sure to visit the octagonal brick towers and take your picture next to the sitting stone lions (at Prasat Tao; tao means lion in Khmer), or a Shiva-lingam! There also is a very special love story between a prasat (temple) and a tree. The tree seems to hug the little brick prasat in a close embrace as it reaches its branches up to the sky. It is really a beautiful sight.
Staying Safe
Mines!
In Sambor Prei Kuk, as in all more remote sites in Cambodia, make sure you walk on the marked paths. Although de-mining is said to have been done here, one of my friends believes there still could be anti heavy-vehicle mines that can be set off by a big car (like our pick-up) in the forest…
We went to Sambor Prei Kuk with my friend's pick-up, and slept in the guard house. But it is possible to visit Sambor Prei Kuk in one day from Siem Reap. Wake up very early and take the earliest bus to Kompong Thom. In Kompong Thom, it is quite easy to find a motodup (motorbike taxi – see our Cambodia transport blog for more on transport) to take you to Sambor Prei Kuk (and back!). Just make sure you know what bus to take back to Siem Reap in the early evening!
If you need to spend the night in Kompong Thom, there are some very central hotels. I have never slept there, but I have been told they are not very charming and a bit noisy. But I suppose the location is very good for people who want to sleep (bring earplugs!) and visit Sambor Prei Kuk, or go to Phnom Penh or Siem Reap early the next day.
Have a nice trip! Sok Sabay!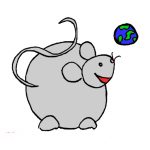 If you find our blog useful, please consider making a hotel or flight booking with our affiliate links. Happy travels!