Last updated on December 5th, 2018
Butte aux Cailles, a Paris Village walk (3 km)
La Butte aux Cailles is one of Paris' remaining "villages", on a gently sloping hill in the 13th district. It is smaller and a lot less touristy than some of the other Parisian villages such as Montmartre or Mouffetard, and well worth a few hours visit.
La Butte aux Cailles, "Cailles hill", refers not to the "caille" bird (quail), but to the Cailles family, who bought over the land in the 16th century. Until the 19th century, the Butte aux Cailles' open meadows, small vineyard and windmills were progressively replaced by limestone quarries, dyeworks and tanneries along the Bièvre river.
The Butte aux Cailles became part of Paris in 1860 and underwent yet more urban change. Today, the Bièvre is covered, the windmills, tanneries and dyeworks have disappeared and limestone is no longer quarried. The area has preserved its early 20th century village-like ambiance, with low rise buildings and fairly relaxed atmosphere.
1. Place d'Italie and rue des Cinq Diamants
Begin your Butte aux Cailles walk by hopping off one of the many métro lines or buses that stop at Place d'Italie. The Fermiers Généraux wall and toll gates, separating Paris and its suburbs until 1860, ran through the Place. Today, it is a 200 metre-wide roundabout on the edge of Paris' sprawling Chinatown, the quartier Gobelins, and the Butte aux Cailles. Around it, there are small gardens, the 13th district city hall, and one of Paris' big shopping centres, Italie 2. Check out the typical historic Paris Hector Guimard métro signs, and walk away from the busy traffic and up rue des Cinq Diamants ("Five Diamond street"), named after a former jewelry shop, and one of the Butte aux Cailles longest streets.
2. Passage Barrault, rue Alphand and passage Sigaud
Walk along these pretty cobbled street lined with low rise buildings and small houses, some with even smaller gardens. The walls at the bottom of rue Alphand are sometimes colourfully painted by graffiti artists.
3. La Petite Alsace
At number 10 rue Daviel a wooden gate under a porch opens into the Petite Alsace ("Little Alsace"), also known as the Cité Daviel. The gate is usually unlocked, and visitors are welcome to have a look, but do bear in mind these are people's homes! Forty charming brick and timbered houses with pointed roofs cluster around a garden. They were designed by Jean Walter in 1912 in a style resembling houses in the Alsace region. A peaceful haven in the middle of the Butte aux Cailles.
Behind the Petite Alsace on an elevated terrace you can catch a glimpse of the Petite Russie ("Little Russia"), also called Cité Citroën. The Petite Russie was built in 1912 just above a taxi garage as homes for the drivers -mostly Russians who had fled their country-. One of the two rows of small white houses can be seen from below.
The Petite Russie can only be accessed through a private building today. Make friends with someone living at 22 rue Barrault and be one of the few lucky people to visit!
4. La Villa Daviel
Just in front of the Petite Alsace is the Villa Daviel. The adorable cobblestoned street is lined with houses and gardens.
5. Télécoms Engineering School façade
Walk down rue Barrault to the Ecole Nationale Supérieure de Télécommunications, an engineering school (46 rue Barrault). Check out the fun 1960's bas-reliefs by Félix Joffre and Marcel Chappey on both sides of the entrance. To the left, six characters depict six means of communication. I'll name just one : the winged messengers (pigeons at the top right), and let you figure out the others! To the right is my favourite, a smaller bas-relief that reads "De la Terre au Cosmos", "From Earth to the Cosmos" with footsteps in a starry sky…
6. Place de la Commune de Paris
Rue de la Butte aux Cailles brings you to the Place de la Commune de Paris. It was named after a battle fought at the Butte aux Cailles during the 1871 Paris social uprising.
A Wallace Fountain stands on the Place, surrounded by a few trees and benches. This very Parisian piece of urban furniture is one of many "Fontaines Wallace", donated by Sir Richard Wallace after the Paris Commune. The cast iron Wallace Fountains, designed by Wallace himself and Charles-Auguste Lebourg, made drinking water more accessible to Parisians.
The fountain on Place de la Commune de Paris is the most commonly found model. It stands at 2.71 meters tall, with four caryatids representing simplicity (or spring), charity (or summer), sobriety (or autumn) and kindness (or winter) holding up a dome from which water trickles.
The water from the Wallace Fountains still flows over 100 years later (except in winter), and a few contemporary "littles sisters" have sprouted up around Paris : Wallace fountain copies painted in bright coulours and the silhouettes of a woman by Paris based Radi Designers (check one of them out to the left of Nôtre-Dame Cathedral).
7. Eglise Sainte Anne de la Butte aux Cailles
Wander down rue de l'Espérance, rue Michal towards Eglise Sainte Anne de la Butte aux Cailles (Sainte Anne de la Butte aux Cailles Church), on 18 Boulevard Auguste Blanqui. It was designed by Prosper Bobin in Romanesque byzantine style. The church was built between the late 19th and early 20th centuries, with many decorations added until the mid 20th century. Sainte Anne de la Butte aux Cailles Church was built on the site of a small timber chapel that could no longer cater to the area's growing population. Walk inside and check out the colourful tinted glass windows and the mosaics.
8. Carrefour rue des Cinq Diamants – rue de la Butte aux Cailles
Make your way back up the Butte aux Cailles via Passage Boiton, where there often is colourful graffiti. Head to the square at the junction of rue des Cinq Diamants and rue de la Butte aux Cailles, the busy and laid-back café, restaurant and bar area. Enjoy a hot cuppa, a "ballon de rouge" ("a glass of red wine"), soak in the village life or check out more of the houses and non-Haussmannian buildings on the Butte aux Cailles.
9. Buttes aux Cailles swimming pool
Not swept up in a Butte aux Cailles party, or want to exercise after a pâtisserie too many? Head to the Butte aux Cailles' swimming pool on Place Verlaine! It is one of Paris' oldest and most charming pools, designed by Louis Bonnier with red bricks. The Art Nouveau pool was built around 1923 and is fed by a 1893 artesian aquifer. The aquifer also leads warm groundwater (28° C) up to the fountain on Place Verlaine, so no need to change into your swimsuit to sample "Château Paris" (Paris water…) or enjoy getting a bit wet!
Inside the pool, glass panels and roofs let the sunshine in. During the summer, the two outdoor pools (one is a children's pool) are great. For more on Paris swimming pools and cheap activities to do with kids in Paris, check out our travel blog!
On Place Verlaine, a plate commemorates one of the first hot air balloon flights. Jean-François Pilâtre de Rozier and the Marquis d'Arlandes landed here on the Butte aux Cailles in 1783 after flying 9 kilometres from the Bois de Boulogne.
Just want to chill in a park? Across from the Butte aux Cailles swimming pool is the Square Henri Rousselle, with tall and shady chestnut trees and a playground.
From Place Verlaine and the Butte aux Cailles swimming pool, you can head back to Place d'Italie or head into Chinatown. We'll include a walking tour of Paris Chinatown soon, so visit again!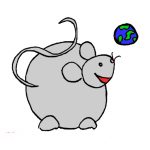 If you find our blog useful, please consider making a hotel or flight booking with our affiliate links. Happy travels!