Last updated on December 5th, 2018
Where to have a drink and listen to live music in the Latin Quarter in Paris
There are literally dozens of holes in the walls, caveaux (vaults or burial chambers), minuscule nightclubs and wine bars on rue de la Huchette and rue Mouffetard. Some open overnight to fold the next morning. You do not usually have to look hard to find lights, music and revelers in the Quartier Latin.
If you have not heeded our hotel picks, chances are you've ended staying right above a drunkards' den… What makes some places great while others remain faceless? The patrons of course, but also the ability of some wily owners to provide the right mix of good tunes, reasonably priced drinks, and reasonably (ha! in Paris?) friendly service.
#10, rue de l'Odéon, 75005 Paris, France – Tel (0)1 43 26 66 83
Le Dix Bar (Ten Bar) is a bit of an institution. So far, it has withstood the test of a few decades. Opened at the eve of the Trente Glorieuses (the Thirty Glorious post war golden days in France), le Dix first famously dares to offer sangria to Parisians. The recipe of this concoction is more or less the same these days and goes for 3.5 euros a glass. Cheap beers start at 4 euros. There is music… from a juke-box that some worship as the central altar and others pat like a faithful dog. Le Dix is proud to be friendly and relaxed, "where contacts are easy and flirting is light".
#5 rue de la Huchette, 75005 Paris – Tel (0)1 43 26 65 05
Le Caveau de la Huchette (the Vault of the Huchette) is a popular and laid back jazz club with a history. This former free mason lodge was connected by tunnels to the Châtelet on this other side of the Seine. In revolutionary times, Danton, Marat, Saint-Just, Robespierre all drank here. Summary judgments were passed and executions decided on a whim. For the past sixty years or so, Parisians have shaken their legs to the rhythm of music played by an impressive list of international and French jazz icons. Get in for a cover charge of 14 euros on Fridays, Saturdays and busy holidays, and drink alcohol from 6 euros up. After 2.00 am sneak in for free with the younger crowd and a wider selection of crowd pleasing tracks.
#52 rue Galande, 75005 Paris – Tel (0)1 46 34 23 09
The Caveau des Oubliettes (the Burial Vault of the Dungeons) derives its name from the very premises it occupies. Spooky… The basement where music is played dates back to the 12th century, while the ground floor bar retains stone masonry from the 16th century. Never mind the spooky name. Modern jazz, jazz funk, blues, jazz groove, jazz fusion and other appropriately entertaining musical forms of jazz are appreciated by a knowledgeable public. If you're talented, you can jam along with the pros. Although at 4.00 am when le Caveau des Oubliettes finally closes, knowledge of drinks is probably more in vogue. There is no cover charge but you have to drink up. Drinks start at 6 euros, which is reasonable if you can sip all night long.
#6 rue Royer-Collard, 75005 Paris – Tel (0)1 43 54 32 37
The Crocodile is locally known as le Crodile or le Croc-crodile. The bar closes at dawn… barely, which is why it is popular with all the studenty drunkards of the Latin Quarter… Expect nothing much in terms of interior design. The list of 300 cocktails (although nobody has ever counted them) is superlatively ridiculous. Anybody gets in, but you often have to line because few people can fit in a cupboard… Between le Pantalon and le Crocodile, move back and forth with the flow but be careful crossing the street with a glass too many.
#7 rue Royer-Collard, 75005 Paris
Le Pantalon (the Trousers) is where all from Sorbonne, Jussieu, Louis-le-Grand, Henri IV, Beaux-Arts, and the geniuses of Ecole Normale Supérieure congregate on a regular basis. We've been there so many times, it feels second nature, just like popping into the local mini-mart. Friendly and cheap, where new faces are soon treated like old time patrons. Check out the Chapelle Sixtine replica constructed with love by some Beaux-Art (Fine Arts) students. The big crazy and drooly dog is part of the furniture, and sometimes it howls without apparent reason. Anything can happen here, they say. The years in the Quartier Latin have made us jaded… but there is always a bit of time for a drink at le Pantalon.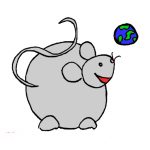 If you find our blog useful, please consider making a hotel or flight booking with our affiliate links. Happy travels!
---