Last updated on December 5th, 2018
Today I have decided to start a series on the wats of Siem Reap, Cambodia.
Most visitors to Siem Reap come to visit the temples of Angkor. For those who stay a bit longer or who get templed-out after a few days, but still hunger for cultural visits, a tour of Siem Reap's wats (or modern pagodas) can be a perfect outing.
Many of the towns wats are dotted along the Siem Reap river. All aboard your bicycle or moto? Start wat hoping!
Wat Bo Road and pagoda entrance
Let's head to Wat Bo. Wat Bo is located to the East of the Siem Reap river. It sits just off the road (fittingly) known as 'Wat Bo Road'. But if you are new to Siem Reap, you might need a few more directions than that to find the pagoda! From the town centre, cross the river on any of the bridges between the Old Market and the Royal Palace and you will hit Wat Bo Road. To reach Wat Bo, turn off Wat Bo Road and head away from the river on Street 22 for a few hundred meters. Anyway, you will know when you get there. There is a merry mess of people, street sellers, motos, tuktuks and cars in front of the entrance. This is not necessarily because the whole of Siem Reap has gone to the pagoda (well, unless it is a special holy day…). The primary school just across from Wat Bo is the more likely culprit. However, once you step into Wat Bo, the small town rush melts away.
Old and new Wat Bo buildings
Wat Bo is one of Siem Reap's oldest wats. Like at most modern wats, spanking new buildings or buildings under construction sit next to old ones. You'll see monks and lay people coming and going, trees sprouting up next to drying laundry and even motos and cars driving through. At Wat Bo, the old vihear, (the monastic hall surrounded by a covered gallery) and open air hall are flanked by a forest of colourful chedis (stupas). The monks' living quarters, new congregation hall and library are located further from the main road, in a pleasant garden with a few shady trees.
Wat Bo murals
The old gates, vihear and open air hall exude a run-down timeless atmosphere. Weathered roofs, colourful mismatched floor tiles, worn walls and gate guardians all add to the charm. The murals in the vihear are said to date back to the late 19th or early 20th centuries. The paintings depict the Reamker, the Cambodian version of the Ramayana and are well worth craning your neck and squinting for (the paintings are set high on the wall). The paintings offer a modern twist to the Reamker too: look out for barangs in full military gear, or European style hats! There also is a tall standing Buddha and a collection of smaller ones.
The entrance to the vihear is usually locked, but a Lok Ta (Grandfather) will inevitably on every one of my visits pop up from behind a pillar with the key.
When you are done visiting the old vihear, perhaps you want to wander around the chedis and new buildings. Or you might prefer to rest in the cool open air hall or on a bench under the trees. If you hang around long enough, a monk or old folk will surely be happy to make conversation with you!
For a Siem Reap Wat tour, check out our Siem Reap Wat Walk!
Sok Sabay!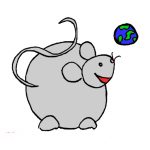 If you find our blog useful, please consider making a hotel or flight booking with our affiliate links. Happy travels!