Last updated on December 5th, 2018
Our baby boy loves opera and ballet. Is it the singing or the music or a bit of both? While he's still too young to enjoy a full performance of Carmen or the Swan Lake, we thought we'd try touring the Opéra de Paris on a Tuesday.
Well, Mondays and Tuesdays are probably best avoided if you want to visit the opera. The reason is simple: most museums in Paris are closed on either of these days, leaving the opera one of the few major landmarks open for sightseeing. More accurately the Palais Garnier or Garnier Palace, as the more modern Bastille Opera is also part of the Paris Opera… but when Parisians tell you to meet them place de l'Opéra, they mean Opera Garnier.
You really need a baby carrier for your ten kilo already but can't walk yet little one for this exciting tour. There are just too many stairs, nooks and secret alcoves for prams. We left ours with one of the friendly ladies who clips the tickets. Folded or unfolded, as you wish, your dune buggy, baby tank or umbrella stroller is in good hands.
There are quite a few stairs to climb and you'll go around and retrace your steps back to the previous halls a few times. The Grand Staircase and the Grand Foyer, pictured below, are broad and smooth enough so you and your precious ones won't feel squeezed by the crowd.
By and large, it was an easy ascent and a careful descent and well worth the golden splendours of the Paris Opera. A virtual tour of the Paris Operais available online on the Paris Opera website for those who really want to plan their family outing ahead.
Entrance: about 10 euros, from 10.00 am to 5.00 pm, every day.
For more fund and educational activities with children, check out Paris top five kids cheap spots.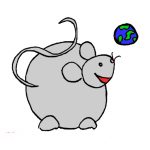 If you find our blog useful, please consider making a hotel or flight booking with our affiliate links. Happy travels!