Last updated on December 5th, 2018
Wa lau! Today I have to take my nephews swimming, and I have to purchase a new pair of smart pants, go grocery shopping and meet up with Ah Chong (alias Tony Tong) for food and beer.
pair of smart pants, go grocery shopping and meet up with Ah Chong (alias Tony Tong) for food and beer.
So I have to catch four fishes with one rod!?!
On the Singapore Gnarfgnarf shopping pages, we've already reviewed a number of shopping malls and local markets. There are so very many shopping centres in our small city for you shopping aholics! But today I shall introduce you to the largest, fattest addition to the Singapore shopping scene, namely VivoCity.
To get to VivoCity, the easiest is to take the MRT to Harbour Front. It's a driverless spunky train line that is quite comfortable.
VivoCity has the distinction of being Singapore's largest shopping complex (I assume the title will not stand long). Although 100% owned by government, the shopping mall does not feel like a bureaucrat's superstore at all, it is really an average trendy over the top super large building with everything you need: multiple food courts with hawker foods and restaurants, supermarkets and hypermarkets, baby boutiques and adult fashions, electronics and hobbies, spas and dance clubs…
The hypermarket is in the basement as you exit the MRT station. The hypermarket will have also plenty of specials and groceries. I pick up my beer and chips here for the afternoon rooftop wading pool, but I leave grocery shopping for when I head back. There are plenty of food stalls with relatively healthy choices such as Petite Provence, a love struck bakery with all kinds of small munchies and treats. Try their "wassant" alias tiny croissants (I guess it is easier to pronounce for a number of tongue tied Asians). Look out for organic alternatives as well as greasy deep fried alternatives.
VivoCity was designed by Japanese Architect Toyo Ito, known for conceptual architecture in which he seeks "to simultaneously express the physical and virtual worlds". Do you get lost in malls? I do. There is a logic to the layout of VicoCity that I cannot understand. I manage to get my pair of smart pants on the go with my nephews tugging along, but head straight to the rooftop as soon as I can.
Fresh air on the rooftop! You get a superb view of the sea, with the harbour clogged up with container ships and the amusement parks on Sentosa Island. The rooftop is the friendliest section of VivoCity. It's got trees, lawns, boardwalks and an amazing wading pool with fountains that stretch almost the whole length of the building. Given the size of the mall, you can imagine this is pretty large skypool.
Time to let the nephews loose. Off to the pool! Ah Chong is already waiting for me with his trousers rolled up and his toes in the water. We pop up a couple of cans of beers. Refreshing! There are big signs that seem to indicate "no freestyle swimming", but the kids are happy to splash and frolic about. Some of the kids are quite big, I mean, even taller than me actually.
On the rooftop of VivoCity, you can spend hours lazing about in the sun, or in the shade, or in the water. If your drinks or foods run out, there is also a food court conveniently located on the rooftop. Cheers!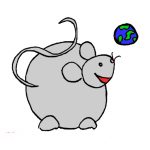 If you find our blog useful, please consider making a hotel or flight booking with our affiliate links. Happy travels!