Last updated on December 5th, 2018
Siem Reap self-guided walk: Siem Reap wat and PAGODAS (3 km)
The town of Siem Reap was formed by many villages. Each of these had or have their own wat, or pagoda. After Angkorian temples, visit the lively town wat sitting along the Siem Reap river. The 3 kilometre walk can be done by foot, bicycle or moto.
1. Wat Preah An Kau Sai
Behind Wat An Kau Sai's yellow main hall, Angkorian ruins can be found.
2. Wat Preah An Kau Saa
3. Wat Po Lanka
Do not miss the mural paintings in Wat Po Lanka's airy main hall.
4. Preah Ang Chek and Preah Ang Chorn Shrine and Ya Tep Shrine
The Preah Ang Chek and Preah Ang Chorn Shrine is one of the most important shrines in Siem Reap. It contains two standing Buddhas. The Ya Tep Shrine is located close to the Preah Ang Chek and Preah Ang Chorn shrine. The Ya Tep shrine sits under a very large tree, on a small round-about in the middle of traffic.
5. Wat Bo
Wat Bo is one of Siem Reap's oldest pagodas. It was founded in the 18th century. Old mural paintings, said to date back to the 19th century, can be found here.
6. Wat Preah Prom Rath
Located in Siem Reap's historic district, this pagoda was founded around 1915.
7. Wat Damnak
Today Wat Damnak is not only a religious centre, but also houses the Centre for Khmer Studies and its library.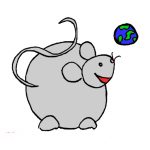 If you find our blog useful, please consider making a hotel or flight booking with our affiliate links. Happy travels!