Last updated on December 5th, 2018
Walking in Phnom Penh
Hey where's the pavement? Where's the pedestrian crossing?
All right, we grant it to you, the sidewalks in Phnom Penh are not always in tip top condition, and serve as parking or selling space more often than not. Add on the crazy traffic, the heat or the floods, and you've got yourself a cocktail of pedestrian hell.
But, although we would never try to cross the city by foot – there are too many main roads to navigate-, walking around within the different neighbourhoods is a fantastic way of visiting Phnom Penh. Pop in and out of historic buildings, stroll along the riverfront, exercise in a park and relax in pagoda grounds.
Choose your neighbourhoods, hop off your tuk-tuk or moto-dup, WALK and discover!
Self-Guided Itineraries around Phnom Penh
Starting at the 19th century Naga Bridge on Norodom Boulevard, amble your way through traditional shophouses and colonial architecture. Watch antiquated trains ponderously leave the Phnom Penh Railway station. Rest at Wat Phnom, where Lady Penh discovered hidden Buddha images in the 14th century. Collect some stamps at the Central Post Office and send postcards to friends and family. Top up this walk full of historical buildings with shopping at the Old Market and some well deserved refreshments along the river front.
Despite the daily rumble of a typical bustling Asian capital city, Phnom Penh has a surprising number of connected open spaces along its river front. The Old Market (Phsar Chas) still serves heaps of fresh groceries. Stock up on cakes, fruits and water as you make your way along the Tonle Sap River towards the Mekong River. Don't overlook the dilapidated shophouses and apartment blocks with their unique environmental architecture adapted to tropical climate. From Sisowath Quay to the Independence Monument, gardens, museums, palaces, pagodas, conference halls and universities line your walk.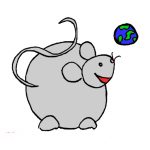 If you find our blog useful, please consider making a hotel or flight booking with our affiliate links. Happy travels!