Last updated on December 5th, 2018
Ola! This is Pedrito and chums here in Lisbon. I contribute a novo escudero or two worth of wisdom to the Gnarfgnarf travel pages. I tell Gnarfgnarf the travel mouse that I am slovenly going bankrupt as a true Portuguese repaying his euro debts to our friends… For the time being we still have our big fat tuna steaks despite our belt tightening diet. God willing!
Monastery of Jerónimos
Today I wish to introduce you to Pastéis de Belem. This is the oldest, most beloved coffee house ongoing in Lisboa. It is right around the corner from Mosteiro dos Jerónimos, the Monastery of Jerónimos. By the way, for the benefit of our visitors, I would like to graciously inform that this old monastery also known as "Santa Maria de Bélem" has nothing to do with the famous Apache warrior Geronimo… The monastery was donated to the Benedictine monks of the order of Saint Yeronimus. King Manuel I began the construction in the age of discoveries, around 1501, with the treasures "accumulated" from Asia, Africa and America. Vasco de Gama, the great navigator, rests here, after many adventures around the globe. The National Museum of Archaeology is located in the monastery and contains impressive collections dating back to 2500 BC.
Historical Coffee House in Lisbon
So after you visit the monastery, you visit the the pastry coffee house. We like to come here because we've always come here, and our parents, and grandparents and fathers and forefathers before them. The history of Pastéis de Belém is closely linked to the monastery. When the good monks got expropriated circa 1820, one of them had the brilliant idea of selling egg tarts to survive the hardship. The azulejo, original ceramics and tiles, have been lovingly preserved in this institution founded in 1837. The coffee house is huge in reputation and in space. Two main things are on the menu, café (of course) and the world famed pastéis de Belém, crispy custard pastries served piping hot and fresh. You go in, you choose a nice spot to sit, not necessarily close to the main hallway. Go inside, walk around, look around, admire and smell the whiffs of heavenly pastries until your buds can hold it no more. No more, just writing about it, I feel like going there now for a quick bite…
Pastéis de Belém, pasteis de nata and Portuguese egg tarts
Technically, the pastéis de Belém are pasteis de nata, Portuguese egg tarts that can be found anywhere around the world where the Portuguese have sailed and plundered, ahem… I mean "discovered": Angola, Brazil, Cape Verde, Goa, Macau, Malacca etc. Our Gnarfgnarf friends from Singapore even sent us a picture of some pastéis de nata from the local Kentucky Friend Chicken branches! Imagine our stupor! But supposedly, the pastéis de Belém follow a secret recipe of the monastery passed on from the good monks, under the hood. Portuguese swear that they can pick out blindfolded with hands tied and without unnecessary waterboarding, a pastel de Belém from others pasteis… But then again when you ask them about the recipe, they also swear that their grandma or aunt has the absolute secret recipe too. Matter of fact, my very own grandmother makes the most remarkable egg tarts: flour, sea salt, spring water, butter, cane sugar, milk, egg yolks, and cinnamon. The secret ingredient? Grandmotherly love for me. But you go to Belém for the atmosphere and the steep history as well.
Another secret is that there is usually less than a nanosecond delay between the oven and your plate. Sprinkle sugar and cinnamon to taste. Relax, dig in! If you've got an hour to spare between flights at the airport, risk it all, get in a taxi and do come to wolf down a dozen of these little guys. Also, why not skip the dessert at the restaurants nearby and come here for a pastry and coffee? It's what Pedrito and chums always do.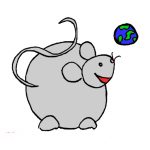 If you find our blog useful, please consider making a hotel or flight booking with our affiliate links. Happy travels!