Last updated on December 5th, 2018
Our Favourite Grands Magasins (Paris Department Stores)
As the home city for some of the world's best known luxury brands, Paris offers some very expensive shopping opportunities for those used to sophisticated eau de toilette, fine leather satchels or traditional printed silks. Little beknownst to the general public, many of the prestigious brands that started in fine craft workshops, are now owned by a handful of multinational firms… The same is true for the old fashioned everlasting grands magasins (the large stores) which were started in the 19th century.
In any of these Parisian department stores, you can find almost anything, from electronics and books, to exclusive jewelry and high end anti-wrinkle lait. Shopping at the grands magasins is worth a detour to admire the historical buildings or ogle at throngs of hypnotised shoppers from around the world. No doubt, you will find a little something to bring home.
#24 rue de Sèvres, 75007 Paris – Tel (0)1 44 39 80 00
Opening hours: 10 am to 8 pm – Closed on Sundays
Le Bon Marché (the Good Market) is the oldest Paris department store, established in 1838, and famously described as "a cathedral of commerce for a people of clients" by novelist Emile Zola. Le Bon Marché is known as le bonheur des dames (happiness for ladies) and stands within walking distance from St-Germain-des-Prés. Gentlemen will also find some appropriately high end shopping in this historical building.
#64 boulevard Haussmann, 75009 Paris – Tel (0)1 42 82 50 00
Opening hours: 9.35 am to 8 pm – Closed on Sundays
As old and imposing as Bon Marché, located on this other side of the Seine around the Opera of Paris, le Printemps (the spring) is a fine example of Art Nouveau architecture. Look up as you stand under the painted glass cupola, and humbly marvel at the contributions of this pioneer of modern shopping. In 1865, after a blessing by the friar of la Madeleine, le Printemps was first to offer quality merchandise at fixed and clearly labeled prices: no haggling necessary. Here they're friendly with your money, wherever you're from: English website and in-house interpreters will make you feel comfortable in spending.
#40 Bd Haussmann, 75009 Paris – Tel (0)1 44 39 80 00
Opening hours: 9.30 am to 8 pm – Closed on Sundays
Next doors from Printemps, les Galeries Lafayette, conveniently stretch their wares under another imposing cupola surrounded by shopping balconies with a view. Established in 1894, les Galeries Lafayette have been competing neck in neck with le Printemps. So make sure you check prices at both before your pay.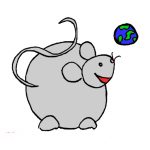 If you find our blog useful, please consider making a hotel or flight booking with our affiliate links. Happy travels!