Last updated on December 5th, 2018
We've put together a short list of best restaurants in Phnom Pen that serve "authentic" Khmer food (get invited by the locals for real Khmer cuisine at home!). These restaurants are not your average eateries that can be found all over Phnom Penh. Note: the locals don't usually eat out on the river front (but the tourists do).
Rumchang
Route Nationale 6, about 4km from Chroy Changwa Bridge , Mekong side
Price: Average to expensive
Crowd: Families and friends
Go for: Khmer traditional cuisine with an untamed Mekong vista
Rumchang offers a splendid view of the Mekong under the shade of the albizia. Fresh khdam thmor or mud crabs (unfortunate translation, since we actually call them stone crabs) may be stir fried with a sweet sauce, beer and Kampot pepper. You are better off picking your own crab (do ask the waiter for the bigger specimens!). Crab is not a pauper's meal. It takes fishermen hours to hunt down the critters in the mud and sand. Depending on availability, expect to pay at least US $15.00 per kilogram. For US $20.00 per person you can order the following delicious selection: chay yor (fried rolls), sach koh chakak (beef skewers), ban chay (pancakes) and crabs. A big bottle of fresh Angkor beer may help your body adapt to the tropical heat and humidity. Rumchang is famous for its pancakes filled with chicken, pork or shrimp or a combination of any. The cuisine is good, straightforward, and fairly priced for a family Sunday lunch. The restaurant is a pleasant outing a few minutes outside of Phnom Penh beyond the Japanese Friendship Bridge and Cape Changwa. You could combine the restaurant with a morning excursion to the countryside in Kandal Province… or simply go there for a good meal with a nice vista of the Mekong.
#74 Street 174, Phnom Penh – Tel (092) 219 565
Price: Average to expensive
Crowd: Families, tourists, Khmer food lovers
Go for: Authentic traditional Khmer cuisine served by former street kids
Romdeng is part of the NGO Mith Samlanh which runs programs to take children off the streets of Phnom Penh, so pigging out on good food at this restaurant is for a good cause. Romdeng teaches kids the basics of cooking and waiting tables for a crowd of cart driving patrons. The service is genuinely friendly and tries hard to please. Talk to the kids as they are eager to practise their English. To our knowledge, the food served here has no equal in any other restaurant in Cambodia. It is exquisite traditional Khmer food without artificial ingredients such as the infamous MSG flavour enhancer. Our parents and grandparents never used any shortcut to good old soup stock. You would have to eat at Cambodian homes for this level of refinement and deliciousness. If you want to go to a Khmer restaurant in Phnom Penh, this should be the one. The beef curry Saraman (mistakenly translated on their menu as Khmer Muslim curry), is on a par with our grandmothers' cooking. Also try the pomelo and mango salads. Forget the fried spiders, it's all for show and nobody really likes them. Sit outside in the garden of this neatly decorated and rehabilitated villa. There is a mini pool where children can play around.
#43 Street 95, corner of Street 348,Tel (0)93 665 225
Price: Cheap to Average
Crowd: People who know
Go for: Calm and quiet vegan, vegetarian and meaty foods
Keh nyai can be translated as "people are talking". Like few other places Gnarfgnarf has seen in his travels around the globe. Refined, elegant, yet simply down to earth and unpretentious. You sit, sipping your fruit smoothie and wait for the food. It may take a while… But the pumpkin and pear salad is a delicious oddity, the soups are nutritious and the desserts classic Khmer. The portions may be vegan bites, but they are filling. Fish amok served in traditional banana leaf cups is also on the menu. It is quiet in this villa that nobody knows about. Ah, we wish word doesn't get out about this hide out, but the travel guidebooks will come soon enough, inevitably. But for now… And soon, as we have done before, you fall asleep on the sofa in the soothing atmosphere of the restaurant at the end of a sunny alley in the heart of Phnom Penh. While the congenial staff discreetly watch over you…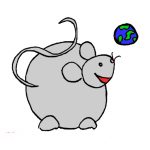 If you find our blog useful, please consider making a hotel or flight booking with our affiliate links. Happy travels!