Last updated on December 5th, 2018
Siem Reap is a city made of hotels and guesthouses. Some have the charm of the old Kleang, others the garrulous kitsch of nouveau riche owners. There isn't a day that goes by without some new hotels blossoming or wilting away. From $2 to $2000 dollars (a night with private pool), there is plenty of accommodation to choose from. We pick a handful of the best hotels and guesthouses for your convenience.
#311 National Road 6, Siem Reap – Tel: (012) 893 001 / (017) 777 110
US $5 to US $10
Crowd: Japanese backpackers and anybody who enjoys Japanese politeness and cleanliness at discount prices
Go for: Great value without sacrificing hygiene and safety
The Japanese constitute one of the larger expatriate communities in Cambodia. Many marry Cambodian spouses and stay beyond their postings as aid workers, others came to Angkor never to leave. It is relatively easy to feast on sushi, tempura and other Japanese bean cakes in Siem Reap. Krorma Yamato is conveniently located, a strong arm's stone's throw from the Royal Residence on the way to the airport, a hundred metres from the city centre. One should not expect a Japanese ryokan, but the inn has a sizeable collection of Japanese DVDs, which can be enjoyed in cozy rooms, equipped with fans or air conditioners. The patrons are mainly quiet Japanese independent travelers, students and backpackers. Simple, clean and quiet with a cute anime logo, the Yamato Scarf is an easy value top pick by Gnarfgnarf Travels.
Nida Villa
#263 Vithei Charles de Gaulle Street, Siem Reap – Tel (063) 963 304
US $25
Crowd: Families with children
Go for: Family run guesthouse with big rooms and big garden
This renovated historic villa is located opposite the Kantha Bopha Hospital, on the main road to Angkor Wat. A true family guesthouse run with by Master Thony and Mistress Vantha. Master Thony or his sidekick Master Map ("Fat") will pick you up from the airport in an old Toyota Camry and provide you useful tips on the town, and after a few days the latest gossips. The rooms are large with air-conditioning, two queen size beds, and en-suite bathrooms. Children will enjoy the truly tropical moist semi-evergreen garden and its fountains, fishes, rabbits and chickens (real and fake ones). A hearty breakfast is included. Guests have a choice of the usual eggs, meats, fruits, but Mistress Vantha's Khmer cuisine is exceptional. Word of mouth brings weary travelers to these calm surroundings. A little French is spoken, and if you are lucky (you are a congenial guest acting in good faith), you will be able to order Khmer meals for a modest bill. You can email them directly for inquiries and reservations (nidavilla@yahoo.com). Conveniently, you can look them up on Airbnb. Long before they became superhost, Gnarfgnarf had been a regular at Nida Villa.
#021, Sivatha Blvd, Siem Reap – Tel (0)89 99 81 68
$30 to US $50
Crowd: Independent travelers, folks sniffing a good deal, families
Go for: Big simple rooms with pool view
The name of this ever expanding hotel is a mouthful and a bit cheesy. In Khmer, the palace is truly the home of the King, we hardly use the term vergn (palace) for any other abode or in any other setting. Nevertheless, the Mekong Angkor Palace is more down to earth and straightforward than it sounds. Located along a couple of narrow alleys off Sivatha, you get convenient access to markets and restaurants. Cars can barely drive through to the hotel so traffic noise is muffled by the front row of shophouses. We were able to bargain off peak season a standard double room for twenty dollars (as foreign tourists you are likely to pay a bit more). Still, for that price you get a pool, small but totally swimmable unless you are a baby whale. In Siem Reap, it is almost impossible to get a room in a hotel with a swimming pool for less than forty dollars a night. The hotel has even a modern working lift, something quite rare for small establishments. The rooms are big and bright with modern equipment (mini fridge, safe, flat screen, wifi) and simple but pleasing wooden furniture. The bathrooms are equally nice and clean in the newer standard and superior rooms. The solar water heaters on the annex are a nice environmental touch. There could be a bit of construction noise here and there, but it's hard to avoid in Siem Reap unless you are going for the larger out of town resorts.
On National Road 6 about 500 metres from corner of Sivatha Blvd, Siem Reap – Tel (063) 760 690
$40 (deluxe double) to US $120 (deluxe triple)
Crowd: Business travelers, busloads of tourists from around the world
Go for: Good facilities at a reasonable price
The front of the hotel is really not much too look at, just another bland facade on the road from the Airport. And the name… typically audacious and appropriately Siem Reap bombast… Yet again, the Angkor Paradise cannot be easily discounted in the local ocean of nameful hotels… First it is part of Allson Sunway, a Malaysian group focusing on efficient hotels for business travelers. With close to 200 rooms, you won't feel alone. It's a big busy hotel, with a sizeable pool, a big buffet restaurant, long corridors and large conference rooms. Book in advance (occupancy is high), and you can get a standard room for US $40. Considering the facilities (we like lounging by the pools to watch pale tourists frolic in the water) and the large buffet breakfast included, this is hard to beat. The rooms are typically international standards with flat screen, wifi, fridge, safe, sleepers, bathrobes etc. For a little extra, you can check out late, which is convenient for intercontinental flights. The Angkor Paradise is not located in a busy part of town, it sits about 500 metres from the intersection of Sivatha and National Road 6, on the way from the airport. Of course on a moto-taxi or tuk tuk you're just a few minutes away from the town centre, but some travelers might prefer accommodation in the thick of the action at higher prices or with fewer amenities.
Corner of Wat Bo Road and Street 24, Siem Reap – Tel (063) 964 769
$40 (standard single) to US $60 (standard triple)
Crowd: Families, honey mooning couples, independent travelers
Go for: Near spotless cleanliness with some social goodliness
If you like things clean, a la Scandinavian (meaning rigidly clean), but in a more relaxed Khmer slovenly setting and without the long lonely fjord winters, the Soria Moria might just be a good pick. There is a tiny pool for dipping, though not really for swimming (6 by 3 metres). It's nice to have some fresh water around. The rooftop bar with its happy hour is near ideal (we would like a smoke free zone!) for sunsets and beyond. Soria Moria is a Norwegian founded, Cambodian operated, partly staff owned hotel cum social enterprise. It has won many accolades for its do good training programme. The location in the Wat Bo area means that you will need to tuk-tuk to the old district (although it's a relatively short ride across the river). However, there are plenty of eateries and a few mini-marts within walking distance. Check out the Soria Moria website where they have posted staff personal stories and responsible management practices. Early bookings and special deals from the main hotel reservation websites will get you a single room with breakfast for around US $25 and a double room for around US $30. The walk-in rates are almost twice as high. Soria Moria's increasing popularity and relatively small size (about forty rooms) makes the hotel in high demand during peak season. Come Wednesdays when tapas dishes and all drinks go for a mere dollar, the hotel gets swamped by cheapskates (like us) sniffing a bargain. Let's hope they are able to keep their services to level, their staff smiling and their prices reasonable.
#1 Vithei Charles de Gaulle, Siem Reap – Tel (063) 963 888
$275 to US $2000 (two thousand US dollars for Uma Villa Suite)
Crowd: Jet setters, foreign emissaries, politicians, but also people with discount coupons and on package tours
Go for: Luxury and history
Le Grand Hotel d'Angkor is the younger sibling of Phnom Penh's Hotel Le Royal. Le Royal follows French colonial architecture, whereas le Grand Hotel is of international Art Deco design. A historic building inaugurated in 1932, le Grand Hotel is an infant by the measure of Khmer civilisation, but belongs without doubt to bygone eras. The room rates are among the dearest in town, and are accompanied with service in semi traditional attire bowing to the floor. This establishment is likely suited to accommodate the capricious tastes of celebrities. The bars and restaurants hark back to times when elephants shuffled tourists around the "ruins of Angkor". The lift is one of oldest in the world, though presumably restored to meet modern safety standards… With a view on the Royal Residence, where His Majesty the King of Cambodia occasionally sojourns, and in the direct axis of Angkor Wat and Angkor Thom, it is difficult to find a more auspicious location. The evening performance of Cambodian classical dance with buffet (for US $40, which is quite a bit more expensive than last time we went) is popular with tourists. The show begins at around 8.00 pm three times a week, but you can start ploughing through the buffet an hour early. The food is standard international fare and the Apsaras, though not to Royal University of Fine Arts standards, are doing a far better job than the waitressess cum dancers on Pub Street or at the Siem Reap Night Market…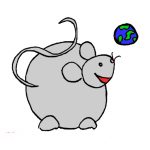 If you find our blog useful, please consider making a hotel or flight booking with our affiliate links. Happy travels!
---