Last updated on November 30th, 2018
Growing up big fans of the Cousteau Odyssey, being amateur snorkelers and keen watchers of reruns of the Life Aquatic, we're regulars at the Singapore Aquarium. Okay, officially it's called the South East Asian (SEA) Aquarium, it's a mouthful, so most people just call it the Singapore Aquarium.
The Singapore Aquarium is one of those superlative oceanariums that rank with the best on dry land and that provide the average Ah Choy (aka Warren Wee) and Ah Chong (aka Tony Tong), the opportunity of a lifetime to see fast disappearing marine species.
Sure, we take our nieces and nephews to the aquarium every few months, but we'd go anyways. If you've been to the California Academy of Sciences or to the Monte Carlo Aquarium, you already know how magical and relaxing these giant displays of manta rays, squids or seahorses can be. So stay mostly dry, and prepare for the appropriate oohs and aahs.
What to see at the Singapore Aquarium
You don't really have to plan your visit in earnest details unless you are really short for time. The map of the aquarium gives you a good idea of what to expect. Basically, just follow the gentle flow of visitors. Spend more time at an exhibit if you like it, or hurry along if you feel goose bumps (my girlfriend rushes through the jellyfish, while I find their light show beautiful).
The Singapore aquarium has 100,000 animals from 800 species divided into 49 habitats. It's big… one of the biggest aquariums in the world.
The aquarium really takes you on a Cousteau and Zissou odyssey of tropical seas, from the Andaman to South America, trough the Persian Gulf. There's probably a jaguar shark swimming somewhere in the aquarium, and only divers from the Calypso are missing from the exhibits.
Our favourite attraction is the Open Ocean Habitat, which lets you experience scuba diving from the comfort of your flip flaps. Look up as if you were sitting on the ocean floor and admire the ballet of 40,000 fish, small and big.
You'll also want to spend more time at the coral habitat. Be patient and you'll discover new fishes every few minutes… sea anemones and clownfish, sea nettles and jellyfish…
The manta ray reef is about halfway through the aquarium, so pace yourself. Cute seahorses are almost near the end. And when you think it's all over and you're ready for the exits, you'll have to let the kids play with the shipwreck playground, the final exhibit.
Planning your visit to the Singapore Aquarium
The aquarium is open daily from 10 am to 7 pm.
Tickets are $38 for adults, $29 for children (age 4 to 12) and for seniors (60 and over). Locals pay respectively $34 and $22.
If you live in Singapore, it's worth considering an annual pass for multiple entries, which is priced at $88 for adults and $68 for children and seniors.
Pack foods and drinks for several hours of exploration in the aquarium. You do get discount coupons for the restaurants inside the aquarium, but the options are limited (either too junky or too pricey).
Grab a tripod for some low light photography, and you'll get denizens of the deep in vibrant colours.
Getting to the Singapore Aquarium
Resorts World Sentosa
8 Sentosa Gateway
Sentosa Island
Singapore 098269
The Singapore Aquarium is located at Resorts World Sentosa. Check out our posts on the beaches of Sentosa Island and on strolling along the Merlion Walk if you haven't been yet.
Sentosa is an island just off the coast of Singapore (it's linked by a bridge so you can walk there) converted into a huge amusement park. It's got a casino, beaches, beach parties and Universal Studios among other things. Even if you're not fond of rollercoasters, Sentosa is well worth a detour for its aquarium and manicured beaches. Some people also like the golf course there, and some very wealthy people live on the island too.
An easy way to get to Sentosa is to get to the Vivo City MRT Station. Vivo City is a huge mall, so you might want to combine shopping and eating after your aquarium experience. You can really walk from the mall to the aquarium via a nicely shaded boardwalk, but if you're used to driving or to be driven around, or just feel a bit lazy, you can take the bus from Vivo City to Resorts World Sentosa.
You can get dropped off at Sentosa by regular Singapore taxi and ride sharing. The cable car is another option for those who are really into cramming all the touristy stuff in one go.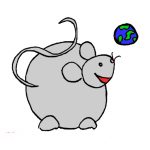 If you find our blog useful, please consider making a hotel or flight booking with our affiliate links. Happy travels!
Looking for land wildlife too? Don't miss a visit to the Singapore zoo to discover other fantastic beasts!