Last updated on December 5th, 2018
A couple of our friends are heading to Strasbourg in Alsace this weekend. This charming city in eastern France welcomes one of the country's biggest and oldest Christmas markets every year, and it is said to be a lot of fun, lights, shopping and eating.
We are stuck in Paris and decided to head to Paris' very own "Petite Alsace" as a consolation prize.
La Petite Alsace ("Little Alsace") sits along rue Daviel, on the Butte aux Cailles' gentle slope in the 13th district. After a warm chocolat (hot chocolate) and steaming cup of tea in the bistrot on rue de la Butte aux Cailles, we made our way through the Butte aux Cailles' charming little streets down to la Petite Alsace. Look out for a wide porch and blue timber gate between two pointed-roof houses at 10 rue Daviel.
La Petite Alsace, also known as la Cité Daviel is a cluster of forty houses around a central garden. Architect Jean Walter designed la Petite Alsace in 1912, inspired by the concept of the "Cité-Jardin" (Garden City) urban planning movement in vogue at the time. The houses have different layouts to cater to different sized families. Today some have been divided into smaller units (although the French do have one of Europe's highest birth rates, 10 people families are becoming harder to come by!). The brick houses are built with "colombages" (timbering on the façades), giving them an Alsatian look. I don't know if the typical Alsace storks would think of shacking up at the top of a chimney here, but for us Parisian humans, a house with a garden definitely makes a luxurious nest!
Built behind and slightly above la Petite Alsace is la Petite Russie ("Little Russia"). Don't expect a miniature Red Square with Saint Basil's Cathedral here, but two rows of little white houses, surrounded by a long terrace-corridor. La Petite Russie, also called Cité Citroën, was also built around 1912 just above a taxi garage, to (very conveniently!) house the drivers. At the time, they mainly were Russians who had recently arrived in France, hence the name. La Petite Russie is a really charming spot, but unlike la Petite Alsace, access is private. Nevertheless, there are a few options if you are determined to visit.
Option 1 : hang around the entrance at 22 rue Barrault (just around the corner), perhaps a friendly (and non suspicious!) resident will let you in.
Option 2 : Wait for the annual "Lézarts de la Bièvre" artist festival. On this occasion, artists in the 5th and 13th district open their workshops to the public. And one of them happens to live in la Petite Russie! Not only do you get to catch a slice of hidden Paris but you will also visit a painter's atelier. Fantastic! Lézarts de la Bièvre is usually held in early June, check out their (French) website for details.
Just across rue Daviel from la Petite Alsace is the Villa Daviel. The Villa Daviel is a peaceful street, lined with early 20th century houses and small front gardens.
Here in la Petite Alsace and surrounding Villa Daviel and Petite Russie, there are no magic Christmas lights, no rowdy crowds and no market stalls selling ginger cookies and warm sweet wine. Only a simple invitation to step out of busy Paris and into an urban oasis.
For more on the Butte aux Cailles and a suggested walking tour, check out our Walk here!
Please note : Up until now, la Petite Alsace's residents have allowed people to visit their property. For their generosity to last, do respect their privacy and keep the place clean!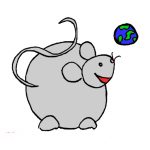 If you find our blog useful, please consider making a hotel or flight booking with our affiliate links. Happy travels!