Last updated on December 5th, 2018
Wa lau! Nothing to eat at home. I ran out of ready to chow, easy dinners for a chilled out evening with my flat screen. I don't feel like wanton noodles again from the hawker centre downstairs from my flat, or the always-the-same-thing pick and mix veg, meat and rice in a styrofoam box.
It would be good to have some not so spicy Indian lentil dahl. Ok, time for a trip to Mustafa Centre. What time is it? It does not matter! This Singapore shopping landmark almost never closes. Sweet! Let me quickly put my flip flops on and take you to this amazing one stop shop mega department store.
Getting to Mustafa Centre
Head out to Little India. Mustafa resides on Syed Alwi Road, a side street located between Serangoon and Jalan Besar. I usually get off around Little India MRT station and walk through the crowds, the misty spices and the picturesque shophouses that have not yet been bulldozed for some high rise condos. Ferrer Park MRT is also a good option, both stations are on the purple North East line. Don't miss the Sri Veeramakaliamman Temple on Serangoon Road. Dedicated to the Goddess Kali, it was built by Indian labourers in 1881.
Getting Lost in Mustafa Centre
Ok, Mustafa Centre has had yet again another facelift. I can't really think of anything quite like this "store" in Singapore. It is housed in several buildings over several floors. The buildings communicate so if you spot an entrance, just dive in. Well, wait a second! Kindly present your bags to the bag check hostess. She can keep your bulky suitcases, but usually she'll just tie a plastic knot around your bags so you can't open them until you get out of the store again. Handy for preventing shoplifting… They've got a tendency to tie these little knots everywhere at Mustafa, even around their own shopping bags.
I don't know whether there is any floor plan, or store plan or any plan of any form. There are a few signs here and there, but nobody really pays any mind. You've got to ask the staff for what you're looking for, and they'll point you in the general direction. General direction, because the instructions would be too complicated… Mustafa Centre is a labyrinth of mumbo jumbo and branded goods, little stalls and endless heaps, piles and rows of the absolutely necessary.
What Can you (not) Buy at Mustafa Centre?
Usually the hardware is on the lower floors. You can take lifts, or you can take escalators, or you can walk the stairs. I'll grab a couple of screwdrivers and white spray paint… There are vitamins and dietary supplements on the ground floor, along with cosmetics. Check the prices, sometimes they're oddly a bargain, other times, they're more expensive than elsewhere…
What's that glow at the far end? The jewelry and gold stores? More like a vault of treasures with earrings, necklaces, bracelets and anklets displayed along the length of the great lobby. Ladies and lads, you should be able to find something to your liking, be it a piece of cheap trinket or a certified authentic golden chalice.
All right what else? Need to book a side trip to Chenai? Well, you can use the in-house travel agency. They also process tourist visas for India. Yes, out of curiosity, I've checked that they don't provide any other consular services for the embassy…
Ok, I might as well pick up a Casio musical keyboard for my nephew. Ooh, hey, looks like their sandals are on sale! Grab a couple of cheap pairs. Already too loaded to get a DVD or a hair drier or a coffee maker.
Supermarket at Mustafa Centre
Somewhere along the way, in your adventures of discoveries of Mustafa Centre, sometime when you have lost track of time. It could be 3 am or 10 pm, you'll come across the supermarket floor. That's where you shop for groceries. It's all there Taj-Mahal saffron, super Basmati, carrots and turnips, bananas and mangoes, pancake mixes and morning cereals, freshly baked cookies and bread. That's where I pick up my easy Indian pre-cooked, ready made dinners: dahl, paneer, korma, etc. Ok, I'm ethnic Chinese so maybe I'm not the best judge for fine Indian cuisine, but you can't beat the stuff for convenience. And it's straight from India!
After all these hours trekking for things you can't find, and finding things you don't need, and buying things you may need one day, you'll get hungry. Sure there are plenty of eateries around, from downgrade C rated tummy churning prata stalls, to cleaner A rated curry friendly places. So much choice in this area. But maybe you just want the convenience of dining at Mustafa Centre? Head to the top floor!
Dining at Mustafa Centre
The 400 seat Kebabs 'n Curry is something to behold… It's a rooftop restaurant and garden on top of Mustafa Centre. It offers South and North Indian food (probably East and West too), vegetarian and non-vegetarian, spicy and non-spicy, touristy and locally made dishes… If there's a party or a wedding, by all means, stay and gawk at the spectacle. You can eat outside under the stars, or you can eat inside also under the glass dome under the stars with aircon… For sure, I've eaten juicier and spicier at the hawker centres down the road, but for a welcoming and seemingly clean restaurant, the prices remain reasonable. Starters start at around SGD 5 and a main dish is around SGD 10. It's so big, it can be dead quiet, but if there's a party, then it's rowdy! Take a few snapshots of the skyline and the fountains. The kids can run around the fountains and on the roof garden rather than remain tied to their chairs. Just like the rest of Mustafa Centre, it's gaudy and kitsch, and out of proportion, but surely not to be missed!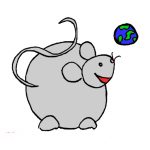 If you find our blog useful, please consider making a hotel or flight booking with our affiliate links. Happy travels!