Last updated on December 5th, 2018
A few weeks ago, friends were visiting Singapore from overseas, and after the usual visitor spots and parks, I ended up taking them to Singapore's own little resort island, Sentosa.
I myself had not been for aaaages. Ages as in 15 year ages. I knew about the island's 'development', the end of the monorail, the introduction of cars and buses, the golf courses, the classy condo, hotels and spas. I had heard about the super-duper huge Merlion with laser eyes (the Merlion is a half fish / half lion creature reflecting the origins of Singapore's name and designed to symbolize our country), the beach bars and of course Universal Studios Singapore.
Now that's a lot of change for an island the size of Sentosa (about 4km²)… So, this made me an almost first-time visitor like my friends!
We hoped off the Express Monorail at Imbiah Station and walked up the water feature steps to the Merlion. We made our way behind the huge concrete creature on a short boardwalk with greenery on one side, and passed the Délifrance pastry shop located just behind and sort of under the Merlion. And there, imagine my surprise as we stumbled upon a garden that seemed straight out from Catalan architect Antoni Gaudí's imagination!
I traveled Barcelona last year, capital of Catalonia (and second city in Spain) and I visited some of Gaudí's unique, organic, often colourful and sometimes strange creations. Well, I honestly doubt Gaudí ever made it to Singapore in his life… It is more likely a few local architects or landscape architects went to Barcelona and fell in love with the Park Güell!
Gaudí's recycled ceramic mosaic work inspired the long undulating fountain, and his intricate use of wrought iron was revisited in the iron trees and gates along the Merlion Walk. Sea creatures emerge from the fountain, spouting jets of water at intervals. Sea shells, starfish, tentacles and waves flow out from the fountain onto the path. The fountain is set between rows of mature trees that provide welcome shade and many benches. Perfect for a short rest!
Gaudí usually used recycled ceramic bits in his mosaics (from tableware for example), and often incorporated Catalan details into his designs. Here at the Merlion Walk, I don't know if the small tiles are recycled bits of ceramic, but the designers included a few old blue and white and Peranakan saucers and bowls, bringing them new life! Look out for the very cute frog teapot lid!
The Merlion Walk is accessible to wheelchairs and prams from Imbiah Station and all the way down to Beach Station (where the Sentosa Beaches are) with a series of ramps. From the Merlion Walk, side gates beckon the visitor up the hill, but I don't know if there is (or I didn't find) a ramp. Can't make it to Barcelona this weekend? Get a fun taster at Sentosa! I don't know what Antoni Gaudí would think of the Merlion Walk! But we loved it!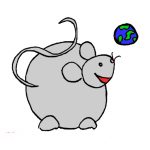 If you find our blog useful, please consider making a hotel or flight booking with our affiliate links. Happy travels!