Last updated on December 5th, 2018
And a happy new year to all from every corner of the world! The elephants have been parading in Singapore's streets and shopping malls for the past month and are in town for another couple of weeks until 14 January 2012. The statues of these joyful mammals have been painted  by local artists and celebrities, and are to be auctioned off to the rich and famous at a gala dinner. The objective is to make them cough up some dough for a worthy cause: to protect the threatened Asian elephant. The proceeds of the sales of the elephants and smaller size replicas go to nature conservation organisations, including the Asian Elephant Foundation.
To date, these open air pachyderm exhibitions have collected 4 million euros from various cities around the world, and hope to do well in rich (and hopefully not too stingy) Singapore!
Many of the elephants are neatly decorated and made up, a few are boring (presumably because they were painted by some bored bureaucrats), and some are downright amazing. So if you're in town, keep your eyes peeled for the friendly dumbos on Orchard, in the Botanic Gardens, at Marina Bay and various shopping malls around town. There is a smart phone application for those photo hunting enthusiasts but I'd rather take it easy and chance encounter one of the funny beasts.
The Elephants have been parading around the World since they first started in Rotterdam back in 2007. Ten years on, the pachyderms are still going strong with showings in California, Britain, Hong Kong, France, Thailand, Holland, Brazil and India. For the latest news on sightings, parades, celebrities, workshops, tours, conservation work and artists head for the online Elephant Parade giftshop.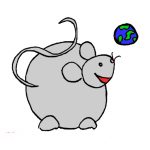 If you find our blog useful, please consider making a hotel or flight booking with our affiliate links. Happy travels!