Last updated on November 30th, 2018
After touring Kampong Glam, the picturesque Malay and Arab neighbourhood in Singapore, you'll be satiated with cultural and historical sights. But what about your paunches? Fear not, being in Singapore, it's hard to avoid the sight of people eating. There are some solid traditional restaurants in Kampong Glam. They're unassuming and crowded by the locals. Our favourite go to places provide traditional foods with down to earth service at affordable prices (you could eat there for breakfast, lunch and dinner and still have money to spare).
All restaurants on our page serve halal food. We'll have to post more on halal food in multicultural Singapore. We get some confused questions from our foreign friends. Can you eat halal food even if you're not Muslim? Course you can, lah. Dear me, so basic… You can be eating char siu pork for lunch and halal Singaporean food for dinner. If you're vegetarian, that's another story: there are plenty of meats in halal food so you'll have to look for tofu and vegetable only dishes, but you are unlikely to starve in any of our favourite traditional restaurants in Kampong Glam.
697-699 North Bridge Road, Singapore 198675
Phone: 6298 6320
Open daily 7:00 – 23:00
The first time I went to Zam Zam, I thought I might slip because the floor was so greasy. A Singapore institution, this unassuming casual eat specializes in Indian Muslim dishes. The biryani, a curried rice dish of meats and vegetables, is on the spicy side but a house must try. Always busy, and always quick and easy for eat in or take away food, Zam Zam is rightly popular and has been serving hungry stomachs since 1908. Try eating a mutton or chicken murtabak on your own (fried stuffed bread), you'll feel you've eaten a whole sheep. Lighter eaters can nimble on roti prata (fried flatbread) dipped in curry sauce. Zam Zam consistently cooks scrumptious traditional food (if a little heavy) at unbeatable prices. Murtabak starts at $6, super special (giant) will feed a whole family for $15. If I lived near Zam Zam I'd be obese: open seven days a week for early breakfast til late supper.
736/738 North Bridge Road, Singapore 198704
Phone: 6292 2374 / 6292 5958
Open daily 7:30 – 20:00
Pariaman has been a tried and tested Singapore nasi padang eatery since 1948. Nasi padang is mixed rice, i.e. steamed white rice served with endless combinations of meats and vegetables. It originates in the city of Padang, the capital of West Sumatra. Pariaman is a generational restaurant: 3rd generation staff, and probably grand children of the first customers as well! The food is cooked daily with charcoal, using fresh produce. If you don't know what to order from reading the menu, don't worry, just pick some meats and vegetables that look tasty and point! Try the beef rendang, a classic curry that is found under different names and versions across Southeast Asia, from Cambodia to Indonesia. Slow simmered for 3 hours, Pariaman's beef rendang melts into your mouth like a fiery ice cream! Don't forget your vegetables: kobis lemak (boiled cabbage with prawns and coconut gravy) or acar timum (pickled cucumbers). A piece of ikan goreng (deep fried fish) goes for $3.50 as for most other items, you only pay for what you want to eat. Rinse down your meal with large quantities of teh tarik ("pulled" black tea with sweet condensed milk).
17 Bussorah Street, Singapore 199438
Phone: 6294 1697
Open daily 8:00 – 2:00
"Glam cafe" could be a title for a Vogue article, but Kampong Glam Cafe is anything but glamorous and trendy. You don't come here to be seen! You come here for a lunch break or a chill meal after a day's work (it's open until 2am). Kampong Cafe, as they call themselves, has been around for only a bit more than a decade, but its fare is traditional home cooked Kampong (village) food, a mix of Malay, Chinese and awkward "Western". You can probably whip up most of the dishes at home, but you may not have the time or the inclination. Take for example the Maggi Goreng (stir fried instant Maggi noodles). Try instead the roti kirai (also known as roti jala), a traditional good looking Malay dish of net or lace bread, served with curry. There's probably a fried rice dish that can tempt you (nasi goreng vegetarian, chicken, seafood). Weather permitting (it can get hot at the terrace), order some soto ayam (Malay chicken noodle soup) or laksa (Peranakan spicy noodle soup). The cook occasionally gets creative but you're better off sticking to the classics, at this cheap and bustling eatery.
18 Kandahar Street, Singapore 198884
Phone: 6294 4805
Monday to Friday 7:00 -20:00
Weekends: 7:00 – 17:00
If you often complain about how flat a dish without chilli and spices is, then maybe you should be eating at Rumah. Another generational establishment (run by the grandchildren of the founders), Rumah was started in 1954 to serve Minankabau cuisine to Singaporeans. Minankabau (or Urang Minang) are an ethnic group from the highlands of West Sumatra. They're one of the largest known matrilineal societies in the world… so gentlemen behave! Chilli, turmeric, galangal and ginger are staple ingredients of Minankabau food. You'll want to order the rendang (curried beef): this is the Minankabau version, spicy, dry and chewy. Rumah basically serves rice with a bunch of different dishes (you pay for what you order and eat), so it's another mixed rice restaurant. We haven't counted the number of items they serve, because somehow we always end up ordering the same stuff we like, but they have a pretty long list (maybe 50+). If it's not fiery enough, order some sambal belado merah (Minankabau hot sauce) and use profuse amounts on your dishes. Vegetarians should try the gulai nangka (cassava leaves and a jackfruit in spicy coconut milk) For those who have sweet teeth, save a bit of room for desserts: bubur cha cha (tapioca pearls in coconut milk), pulut hitam (black glutinous rice) and assortment kueh (pastries). I hate it when they run out of the dessert I've been looking forward to order.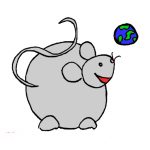 If you find our blog useful, please consider making a hotel or flight booking with our affiliate links. Happy travels!