Last updated on December 5th, 2018
Located a stone's throw away from the Tour Eiffel, the Quai Branly is a great museum to visit with kids. It showcases beautiful pieces from the four continents, from huge totems and masks to everyday objects and musical instruments.
Kids are sure to love the many animal depictions and graphic details on sculptures, paintings or textiles. Video and music booths are also a big hit. The whole Quai Branly museum experience is kid friendly, from free strollers, the ramped access cum artistic installation and the overall very "organic" and flowing exhibit layout.
The museum does not stop there : they offer different kid-oriented programmes. Our favourite was the narrated visits by story-tellers (only in French). Can't tell who liked it more : the kids or us! The garden, designed by Gilles Clément is also a great place to visit. Plus, the designers claim it is pesticide and herbicide-free! Kids will love the 'wild' atmosphere, very different from visiting the gardens in Versailles. Be sure to show them the vertical garden that hugs the building wall along the Seine. The turtle is the garden's muse, so if you need another kid-friendly activity, get them to look out for turtle shapes, while you catch glimpses of the Eiffel tower. On the list of must do attractions in Paris, the Quai Branly will easily please adults and little ones alike.
For more fund and educational activities with children, check out Paris top five kids cheap spots.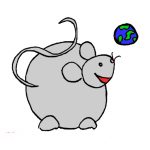 If you find our blog useful, please consider making a hotel or flight booking with our affiliate links. Happy travels!