Last updated on December 4th, 2018
Climate Change is Coming to Cambodia
In Cambodia as in the rest of the World, seasonal patterns have become more erratic, with higher frequencies of intense floods and droughts. As a mainly agrarian country, Cambodia is particularly vulnerable to climate change.
My grandmother whose close to 100 years old, never once in her life saw hail in Cambodian, not even in the highlands of Mondolkiri. Freak hail storms are not uncommon now, even in the middle of the dry season in Cambodia. And in the "winter", the locals take out their parkas and woollen caps to ride motorbikes.
Of course if you're coming from sub zero temperatures, you'll find Cambodia excruciatingly hot at the height of the dry season. But if you're used to warm weather, you'll need to pack some jumpers and jackets for Christmas and end of year celebrations.
Cambodia generally feels warm and humid. This is partly true in the dry season. But it's noticeably drier than tropical countries further to the south such as Malaysia or Singapore. Cambodia is probably somewhere between south and central Florida, and wetter than southern Europe.
Cambodian Monsoon
Cambodia's climate is dominated by the monsoon. There are two main seasons: the wet season from June to October, and the dry season from November to May.
In coastal areas, the wet season starts earlier and lasts longer than in northern provinces. Siem Reap is one of the provinces with the lowest amount of precipitation. The dry season sees water shortages and drought in rural areas, whereas the wet season is marked by floods. Phnom Penh will get precipitation before Siem Reap as it is further south.
Cooler Temperatures around December
The most pleasant weather occurs in December, January and February, when skies are clear blue and temperatures drop to a cool 20°C (70°F). At night, temperatures drop even lower. The past few years have seen day temperatures around 15°C (60°F), which is relatively cold for Cambodians.
People in rural areas are poorly equipped to deal with such temperatures. Comes December, those who can afford jackets, caps and gloves will be wearing extra layers.
From March, temperatures start rising quickly, the skies are still blue, but it is nigh impossible to work without proper ventilation or air conditioning. Visitors who are not used to day temperatures of 35°C (95°F) and above, are seen sweating and drinking profusely. The landscape turns ochre and the atmosphere is dusty. Temperatures remain high until June, when the first rains of the wet season bring some freshness to Siem Reap.
Drenched between June and October
SUVs and trucks come in handy, while those on motorbikes and cycles will get wet. Late afternoon storms are brutal and lash the city with downpour. However, it is relatively rare to have grey skies all day long and several weeks in a row.
The good thing with the rainy season is that there will usually be some nice weather at some point during the day. Cambodians are flexible about planned activities during the wet season. Should it rain too much, then a cookout might be postponed a few hours or to the next day. Visitors should take example on the locals and plan their tours accordingly.
Depending on the years, the city of Siem Reap may get flooded as early as June (before the sewage system gets unclogged). Runoff flows north south from Mount Kulen to Lake Tonle Sap. The Siem Reap River turns from a trickle at the peak of the dry season to a proper tributary that overflows its banks. Usually, a sliver of town located north of the Royal Residence is spared by floodwater.
Phnom Penh can also get bad floods. Most of the pre-war urban flood control structures (dykes, canals and reservoirs) have been destroyed and filled up for new developments. The first few days of rains sorely test the capacity of the city to absorb excess water. Once the sewerage system gets unclogged and running, things improve a little… until the next wave of torrential rains.
When Should You Travel to Cambodia?
Probably when the kids are off school and your boss lets you take a well earned holiday… You can come anytime to Cambodia! But depending on whether you like it hot, cold, wet or dry, some days are better than others…
If you only have a week or two in the country, you may want to avoid the worst downpours of the rainy season (July and August). This would normally fall during the northern hemisphere's summer. But then again, seasons have become more erratic. You could still plan most of your visits early morning and afternoon, and retire to your hotel to watch rain drops for dinner. Even during the rainy season, it rarely rains nonstop for days. Road travel in the lush and green countryside may be seriously hampered, if not impossible. The temples of Angkor glistened right after the rain, but the old stones can be a bit slippery, so take care!
April and May are dry and extremely hot months, even by Cambodian standards. We avoid roasting our skin in the sun during those months. Air conditioning (with electricity brown outs) are working full blast at workplaces across the Kingdom. The countryside is all wilted, brown and dusty. There is usually not a drop of rain, and you'll get clear blue skies at the peak of the dry season.
Sometime after the Water Festival, in November, all the way to February, you'll experience the best combination of sunny skies and clement temperatures. The Cambodian countryside is still verdant in the weeks following the end of the annual downpours. It can be a bit cold around December for visitors from tropical countries, but gloves and winter coats won't be necessary for most people.
Whether you prefer taking a raincoat or sunscreen, enjoy your stay in Cambodia!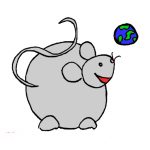 If you find our blog useful, please consider making a hotel or flight booking with our affiliate links. Happy travels!