Last updated on December 4th, 2018
Now you've just landed in Changi Airport, one of our favourite airports in the whole world. And that's not because we're locals. You won't have to wait long before you are whisked through immigration, luggage claim and customs. No, don't think that you will have time to buy some duty free goodies… Well, you can, but your suitcases would have circled the carrousel a dozen times already! That's how efficient and well oiled Changi Airport is.
Ok, we wish public transport from Changi to the city centre was as superlative. It's not bad, but a bit lower key if you ask us.
Is there a best way to get to town? Wah lau! In a luxury limo with a driver wearing white gloves obviously… So Rolls Royce with chauffeur not waiting for you at Changi, uh? Read further to get an overview of the transport options you have.
The long (but cheap) way from Changi to town: Mass Rapid Transport (MRT)
MRT is Singapore's underground and above ground urban railway system. It will take you an eternity to get to the centre with MRT: at least 45 minutes depending on where you're heading and how long you have to wait. MRT does the milk run, stopping at almost every single HDB (Housing Development Board) hub, every mall, every landmark in Singapore along the way. Not a bad idea if you want to enjoy a metro subway ride. But after an intercontinental flight you may be in a hurry to check into your hotel.
Luckily you will be getting on the train at the beginning of the journey, so there should be plenty of seats and room for luggage. If you just have a suitcase or are travelling lighter, the MRT is unbeatable pricewise. It's really easy as well: there is just one straight line to town, so you won't be getting lost.
First things first: Get an EZ-link card! It's an MRT pass with a stored value. Each time you take a trip, the value is deducted accordingly. The EZ-link card is great for multiple trips, and if you're staying a few days in Singapore, you will definitely need one. The card costs $10 ($5 for the card itself and $5 in stored value). The EZ-link cards often have cool motifs on them. My favourite is the Japanese style anime Justice League characters! So a nice souvenir to collect as well.
You'll be hitching a short train ride to Tanah Merah Station. Tanah Merah is the name of the MRT station that is closest to Changi (also the name of the Country Club, my uncle golfs at, in full view of the airplanes). First train to Tanah Merah departs the airport at 5.30 am on weekdays, and 6 am on Sundays and holidays. Last train leaves at 11.30 pm. Once you get to Tanah Merah, get off the train and look for MRT trains heading West (Green Line, known as the East West Line). So let's be clear: take the East West Line towards West or City Centre at Tanah Merah MRT Station.
The MRT fare from Changi to Singapore City Hall will cost you less than $2. A real bargain even if the trip is slow!
The East West Line is very convenient as it travels through iconic Singapore neighbourhoods: East Coast, Geylang, Bugis, City Hall, Raffles Place, Outram Park, Tiong Bahru. It is also an extremely busy line: it's busy off peak and very busy during peak hours!
Riding public buses from Changi to town: cheap too, but longer and slower
Take Bus 36 to town from any terminal at Changi. The first bus departs at 6 am and the last one at midnight.
Not sure why you would want to ride the bus all the way into town lah! You'll be using the EZ-link card which is also valid for the MRT (see above). That's assuming you have no luggage (it's really not convenient to board a bus with a suitcase, except for a carry-on).
Riding the bus to town is cheap, but basically the same price as MRT. There's no real scenic advantage either as the MRT travels above ground a good section of the tracks until it reaches the city. If you have a bus stop right outside your destination, why not? It will take about an hour to reach City Hall.
Changi Airport Shuttle to town centre: the middle road between private ride and public commute
If you're not ready to fork out a full taxi fare to town (although comparatively to other countries, still a good deal), the Changi Airport Shuttle might be a good option. These mini buses are only marginally slower than cars (unless your cabby is a driving maniac), and will most likely be able to drop you off right at your hotel. At slightly less than $10 for adults, the Changi Airport Shuttle only makes sense if you are travelling alone.
Taxi from Changi to city centre
At each of Changi Airport's Terminals, there are taxi stands located on the arrival levels. Singapore taxis are metered, notoriously safe and strictly regulated. A ride will cost you about thirty minutes of your time off peak and around $20. The trip to the city centre can take an hour and $40 during rush hours. There's a 50% surcharge between midnight and 6 am.
There are broadly two types of taxis: regular taxis (usually Hyundai Sonata), premium taxis (Mercedes Benz and other larger cars). Add about $10 to $15 to a regular fare if you want to ride into town in a German sedan.
The question is how many people are you allowed to fit in a Singaporean taxi? There is a savant formula that allows combinations of children and adults. Three children below the age of 12 only take as much space as two adults. So a standard taxi can therefore accommodate: 4 adults, or 3 adults and 2 children (below 12), 2 adults and 3 children, 1 adult and 4 children, or 6 children. That's in theory what you can do. The driver will absolutely not let 5 adults onboard, even if they take less space than 3 fat kids!
The same formula is used for maxi-cabs (7-seater taxis). You can fit seven adults in a maxi-cab and a number of adults and children combinations. Try for example 1 adult and 9 children and the driver won't bat an eyelid. For 7 seaters, you need to approach the Ground Transport Concierge, also located at each arrival hall.
Ride hailing pick up from Changi to city centre
At Terminal 1 and 2, the pickup point is on Level 1. At Terminal 3, the pickup point is on Basement 1. Look for at sign that says "Arrival Pickup". Uber and Grab are the two competing ride hailing services operating in Singapore. Ideally, you need to have a local Singapore sim card in your phone, so that the driver can call you if he cannot find you.
If you are already registered with Uber in Europe, America or other Asian countries, you have the option of hailing a ride from Changi Airport to the city centre. If you're coming from another Southeast Asian country, you probably already have a Grab account that you can use in Singapore as well. The Grab app just works like Uber's for the most part: geolocation, set destination, estimate fare etc. It is the more popular service in Singapore. Grab offers more customisation options than Uber (or standard taxis), such as vehicle types and booster seats for kids. You also have the choice of paying the driver directly in cash.
In our post on hailing taxis and sharing rides in Singapore, we explain in greater detail the differences and similarities between taxis and ride sharing services, and discuss their respective costs and advantages.
You're almost there! Once you've landed safely in Changi, getting to the city centre should be relatively easy!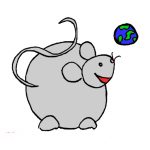 If you find our blog useful, please consider making a hotel or flight booking with our affiliate links. Happy travels!