Last updated on December 5th, 2018
Let me introduce you to kralan, a typically Cambodian savoury snack. Kralan consist of sticky rice cooked in coconut milk black eyed peas or bean stuffed in bamboo. The cooking is a lengthy and fuel consuming process (usually charcoal or wood).
The bamboo sections are about thirty centimetres long and of different diameters (skinny, medium, fat, as we say in Khmer). A medium sized bamboo section will feed easily two Khmer, but a westerner can probably eat one on his own. Also good to know for developed countries' stomachs: kralan, along with grilled bananas is one of the few safe roadside foods you can enjoy without punishing your guts.
How do you Eat Kralan?
Kralan is a snack. You eat it whenever, and wherever: everyday, in the car, in front of your television, or on your porch. There's no special occasion for it and any occasion is good enough for kralan. When you're hungry just split open the bamboo section to expose the rice. It's sticky and has coconut milk so you can't use your tablet or touch screen at the same time. You'll need some napkins after pigging out on kralan.
Kralan is a rich food, add some beans, and it's almost a full meal. According to tradition, Khmer soldiers from Angkorian times, and even earlier, would take kralan on patrols. No need to cook, and it keeps for a few days (especially if you don't add too much coconut milk). This was ideal for expeditions and travels throughout the old Khmer Empire. Thing is, modern kralan with coconut milk does not keep well beyond two or three days, so it's better to eat it on the day of purchase.
Where to Buy Kralan in Cambodia?
You can get kralan in a handful in places in Cambodia, so if you drive by or spot any as you travel around, do make a stop to pick up a bagful of the delicacies.
Kralan from Battambang, to the Northwest is the most famous and appreciated by connoisseurs. As you travel from Siem Reap on to Banteay Meanchey, and before you reach the city of Battambang, enjoy sticky rice kralan in Phnom Toch and Phnom Thom (little mountain and big mountain). Outside of Battambang, Koh Norea is famous nationwide.
The other terroir famous for kralan is Kratie Province. It is second only to Battambang. But it depends on your taste buds, some people swear only by Battambang kralan, the usually generous and richer kind, while others prefer the Kratie sticky rice. Food buffs argue that it is essential to have good rice to make good kralan, thus Battambang chefs would have the advantage when it comes to getting their hands on premium rice. Battambang is a highly productive and known as the rice province of Cambodia. Much of its higher grade rice is exported to Thailand, to presumably be relabeled for global shipments.
If you are visiting the temples of Angkor, you will find southwest of the city of Siem Reap, around the village of Dam Daek (literally, "Metal Forge"), another source of kralan. It is not yet well known, but the stalls are conveniently located on the national road to Phnom Penh. Dam Daek was not previously known for kralan, the village, although an Angkorian weapon smith settlement, is a post-war newcomer when it comes to sticky rice. Try it, it's not bad, although arguably a grade lower than kralan of Battambang and Kratie.
Still hungry? Read our tips on street foods that are safe to eat in Cambodia. If your require proper Khmer cuisine, try traditional Cambodian dishes.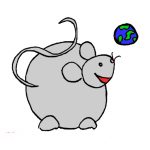 If you find our blog useful, please consider making a hotel or flight booking with our affiliate links. Happy travels!