Last updated on November 30th, 2018
Singapore might be a bustling overbuilt metropolis with far reaching towers and condos, and a shopaholic materialistic culture, but it is not just populated by the heathen! Singaporeans do go to pagodas, churches, temples and mosques.
The Buddha Tooth Relic Temple and Museum (BTRTM), in short the "Buddha Tooth Relic", is one of Singapore's main attractions, and probably the largest landmark in Chinatown if you don't include the shopping centres!
What to see and do at the Buddha Tooth Relic
The Buddha Tooth Relic is a huge Tang style building that combines a temple and a museum. It looks the part of old, but in fact it was completed in 2007 only. So it's both a place of worship and a cultural centre with outstanding exhibitions. Guided tours last about 2 hours and are free of charge!
Burn incense! There are plenty of opportunities for praying and burning incense at the Temple. Right at the main gate, grab some incense sticks in odd numbers, light them using a candle, kneel, pray or simply bow, being all good thoughts from toe to head. Stick the candles in the massive incense burner (careful not to burn yourself)!
Look for your Chinese astrological sign! Armed with your date of birth, find out which of the twelve animals of the zodiac you were born into. An often accurate description of your character and attributes will comfort you in your strengths and help remedy your (slight) flaws… Ambitious rooster, loyal dog, cunning monkey… which one are you?
Search for your protecting Boddhisatva! In Buddhism, a Boddhisatva is one who seeks awakening. According to Mahayana teachings, the universe is filled with Boddhisatvas who are ready to help us on our path to enlightenment. If you know your astrological sign (see previous step), you'll be able to locate the statue of your protector!
Buddhist Culture Museum. Located on the third floor, the museum has an outstanding and ever growing collection of artefacts from all over Asia, from India to Southeast Asia. Here you can admire stupa reliquaries, Buddha statues or exquisitely hand written sutras. The relics of Buddha are held in the Relic Chamber.
Sacred Light Hall. The Sacred Buddha Tooth is located on the fourth floor. Only monks have access to the inner chamber, but there is a viewing platform for the general public.
Roof Garden. Don't miss the rooftop, which offers great views of Chinatown. It's usually a little quieter and has its own pagoda of Ten Thousand Buddhas (actually 11,111) and prayer wheel. Close your eyes, enjoy the fragrance of orchids and the melodies of the wind chimes…
Planning your visit to the Buddha Tooth Relic Temple
The temple is open daily from 7 am to 7 pm. This is great news for early risers and those on jetlag. The Buddhist Culture Museum and Relic Chamber open and close a little bit later and earlier than the main temple, from 9 am to 6 pm.
A visit to the temple and all its premises is entirely free of charge! This is pretty amazing considering that there's a lot to see and that you will be spending several hours admiring priceless cultural, artistic and religious artefacts. There are donation boxes throughout the temple, so if you're feeling generous or are looking to
improve your good karma, put in a few bills!
Getting to the Buddha Tooth Relic Temple
288 South Bridge Road
Singapore 058840
The Buddha Tooth Relic Temple is located in Singapore's Chinatown. Okay, we know, the whole of Singapore looks like Chinatown! The temple is in historical Chinatown, pretty much just slightly south of the Central Business District, the downtown area. And the Tooth Relic Temple is in the southern part of Chinatown.
You could hail a Singapore taxi or share a ride directly to the temple and then walk your way north, visiting Chinatown. Or you could take the MRT to the Chinatown station and then wander south through People's Park, Pagoda Street and the alleyways packed with food stalls and souvenir shops.
If you've already done your hiking to reach the Temple, be sure to cool down and relax, watching the grandpas and uncles play a game (or two) of Chinese chess. There's a teahouse inside the temple (great vegetarian selection) but you'll need all your energy to negotiate the seven floors of the Temple (including basement, mezzanine and rooftop).
Good karma!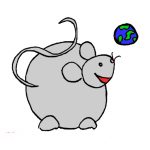 If you find our blog useful, please consider making a hotel or flight booking with our affiliate links. Happy travels!