Last updated on December 5th, 2018
Yeh Puluh is one of my favourite sites close to Ubud in Central Bali. Why? It is small, quiet and set amids lush greenery and rice fields. The mysterious stone carvings scroll out over the linear rock face, unraveling their stories as you walk.
Getting to Yeh Puluh
Yeh Puluh is located close to Ubud, on the edge of the village of Tengkulak, about two kilometers from Bedulu (and Goa Gajah, the Elephant Caves, more on our post here).
Getting to Yeh Puluh is easy from Ubud. You can catch a bemo (an overstreched rickshaw tricycle) or drive out. Once in Tengkulak, ask for more precise directions. For those who like walking, Yeh Puluh is accessible through the forest and paddy fields from Goa Gajah, or by following the main road.
Yeh Puluh also stands out from other Balinese site as one of the few with bas-reliefs depicting scenes from daily life and not only religious stories.
Yeh Puluh's Bas-Reliefs
Yeh Puluh consists of a 25-metre sequence of reliefs, carved directly into the rock face. They are said to date back to the 14th century. The carvings themselves are not particularly intricate and are worn out by six centuries of rain and sun. But their beauty lies in their simple lines and nearly real-life size figures. The characters look like they are ready to step off the rock wall!
Just after the candi bentar (the split doors), a kayon (traditionally the first puppet to appear during a show) is carved at the start of the wall. This leads us to believe the reliefs could be read like a story. Some people claim they tell the life of Krishna, an incarnation of the god Vishnu. The characters on the bas-reliefs are busy with everyday activities : men carrying jars, an aristocratic woman, peasants, hunting scenes, a man on horseback pulling a woman along…
At the end of the wall, sits a sculpture of Ganesha. A well over a sacred spring and a bale (a pavillion) stand just away from the wall. The name Yeh Puluh is said to mean "water jar" or "water container", perhaps related to this well/spring.
Yeh Puluh's Landscape
The surroundings are also what make Yeh Puluh so special. The walk down to the bas reliefs goes through greenery and stepped rice fields. A singing stream follows the path down. At the end of the wall, the well and bale seem perfect for a moment of quiet contemplation.
The walk down (and back up!) to Yeh Puluh from the entrance is quite short. Nevertheless, the steps make access with prams or wheelchairs difficult. Each time I visit, I meet the old holy woman who takes care of the site. She slowly walks up and down the steps despite her age and frail build!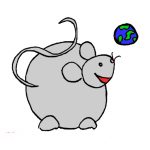 If you find our blog useful, please consider making a hotel or flight booking with our affiliate links. Happy travels!