Last updated on December 5th, 2018
I keep coming back to the area around Sultan Mosque, also known as Kampong Glam or Arab Street, in Singapore. Yes, the urban landscape changes in Singapore. Yes, stuff is demolished, rebuilt, renovated, refurbished, reclaimed, transformed. Yes, the character changes. But somehow Kampong Glam has retained something authentic, something living.
On my last visit, I still enjoyed walking through the Chinese shophouses' covered five-foot path and shop 'with the eyes'. The fluffy feather boas, colourful cloth, starchy batiks, Muslim books and clothing, perfumes and baskets are all still there. Bussorah Street has been renovated, and the perspective on Sultan Mosque and its golden dome is great.
The Malay Heritage Centre in the Istana Kampomg Glam has a pleasant garden (and very convenient toilets at the back). The kids loved the Bugis boat replica too! (The Malay Heritage Centre will be closed from July 2011 to June 2012 for renovation, though) I also tried to 'eat with my eyes only'! But I succumbed to a few Turkish falafels (fried chick pea balls) in one of the more recent and trendy restaurants, as well as to a crispy flaky chicken curry puff at the always friendly and always-there-for-as-long-as-I-can-remember malay coffee shop. So, yes, Kampong Glam I love you! For a map and walk to slim down a little, check out our self-guided tour of Kampong Glam.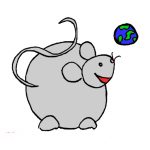 If you find our blog useful, please consider making a hotel or flight booking with our affiliate links. Happy travels!