Last updated on December 5th, 2018
Visiting Angkor with your little ones? What a great opportunity! The Temples of Angkor are a great playground for kids young and old. But what about the nitty gritty kid-friendly tips you need to make your trip in Cambodia the smoothest possible? Gnarfgnarf's top tips are here to help you prepare your visit to Angkor!
You might not be dirt motorbike riding to remote Angkorian temples (though with a car, an open mind and a choice of temples that are 100% de-mined and de-UXOed (UneXploded Ordnance), it is do-able), but Angkor is just a few kilometers from Siem Reap and offers many temple adventures with the kids.
1. Pick your transport: Car or Tuk-Tuk
With kids, the easiest options are either visiting Angkor by car or by tuk-tuk (an open-sided covered-top carriage pulled by a motorbike). Bicycles and motorbikes are not advisable for little ones because of traffic, particular big busses zooming by.
For bigger kids, an elephant ride up to Phnom Bakheng or to Bayon is loads of fun.
Car : the usual tourist car with driver is a Toyota Camry, and fits 2 adults and 3 small kids comfortably. The 1990s Toyota Camry is locally known as the "shark" (Chlam), whereas the fatter newer model is known as the "whale" (Baleine as in French). If you are visiting Angkor with your whole tribe, mini buses are a spacier option, usually a Mercedes.
Kid + : No surprises. If your kids ride a car in your home country, they'll ride the car here. The air-con comfort is a plus to stay cool and dust-free.
Kid – : Child car seats are most often not provided, but can be bought in town. However cars usually have backseat safety belts.
Tuk-tuk: You can comfortably fit two adults and 3 kids in a tuk-tuk, and not so comfortably fit your entire extended family, with the dogs and the hens included. It is cheaper than a car.
Kid + : I have not yet met a child who does not enjoy tuk-tuk rides! Breeze, bumps and bikes: a winning combination! A huge plus point on the second or third temple days.
Kid – : Tuk tuks are open to dust and car fumes. Have your kids wear sunglasses and keep a krama handy to cover their mouths and noses. Kids might also get fidgety on long tuk tuk rides (the tuk tuk magic starts wearing out after 45 minutes with our toddler).
And a word of caution: tuk tuks can easily overturn in an accident. It doesn't happen very often, but it happens often enough (especially with rookie drivers).
For smaller kids, a baby carrier or baby back-pack is useful, although hot for kids and carriers. Prams are not very practical, unless perhaps a sturdy 4×4 wheel drive type, and you will have to hurl it up and down the temple steps…
2. Cover up and drink!
Yes, it gets hot on the temples and the Cambodian sun is harsh, even in the cooler months of December to March. Hats, sunscreen, sunglasses and bottles of water are mandatory. Long sleeves and something to cover your neck are recommended. The locals take extra precaution with the sun and can spot red-lobstered visitors yards away.
Of course you'll always find bits of shade under tall trees and covered galleries. But unless your little ones are up in the wee hours and you are back in Siem Reap by 9 am, be ready for the heat.
Kid + : An umbrella is very useful as your personal portable shade. There are drink stalls and shops close to the entrances of the main temples. Cold water, hats and scarves are never too far away.
Hottest temples: Temple-mountains. Especially Phnom Bakheng (the walk up goes through the forest, but the sun beats down harshly at the top), Pre Rup and East Mebon.
Shadiest temples: Royal Palace forest walk behind the Elephant Terrace. It will take you past Phimeanakas to Baphuon.
3. Alternate temple-mountains and flat temples
In Hindu and Buddhist mythologies, Meru is a sacred mountain. Angkor's temple-mountains are modeled after Mount Meru, and this means up and up! And down and down!
Kid + : Alternate temple-mountains with flat temples and little legs (not to mention your own back and arms…) will thank you. Even flat temples have stepped entrances, stepped galleries, stepped causeways etc. Timber steps have been added over the existing stone ones for conservation reasons. This makes temple rambling "tamer", but it really makes climbing up and down A LOT easier for kids (and adults who have to carry kids…).
Kid – : Steep climbs and narrow stepped terraces (with no balustrades) in some temple-mountains. Straps your kids to your body or hold hands tightly!
Main temple-mountains: Baphuon, Bayon, East Mebon, Phimeanakas, Phnom Bakheng, Pre Rup and Ta Keo.
Main flat temples: Angkor Wat (though the inner sanctuary is perched high up), Banteay Kdei, Banteay Srei, Banteay Samre, Thommanon, Chau Say Tevoda, Neak Poan, Preah Khan, Ta Prohm and Ta Som. The Elephant Terrace, Terrace of the Leper King, and Srah Srang are also flat.
4. Consider half-day visits
If you are a foreigner, your ticket to Angkor is valid the whole day. It is tempting to cram as many temples into one day as possible! This is totally do-able with bigger kids and teenagers. With little ones, half-day visits might be easier to manage. Or visit a few temples in the morning and a few more in the late afternoon
.Kid + : Buy a 3-day pass valid over one week instead of a 1-day pass and take it easy. For longer visits, the 7-day pass valid over a one month is an interesting option as well. Passes are also valid on the day before the visit, after 5pm. A good thing to know to break up temple visiting.
5. Bring snacks!
Climbing up and down steps, walking in dark passageways and across sun-baked causeways, searching for carved horses or creepy crawlers means a lot of energy spent! In addition to water and juices, consider packing kid food. "One temple – One banana", and our little one keeps going for a few hours.
Kid + : Food and drink stalls can be found close to most of the temples' entrances. Water, fizzy drinks, and fresh coconut juice are easily available. Fruit vendors sell what's in season. Bananas are available year-round and are easy and safe for tummies (no washing needed, just peel). Some stalls also offer cooked food.
Kid + at Angkor Wat: Look out for corn-on-the-cob or kralan (sticky rice stuffed in bamboo, see our post on kralan). The Blue Pumpkin bakery and ice-cream shop also has an outlet in front of Angkor Wat. A slice of modernity with a scoop of ice-cream after hundred years of history anyone? Yum yum. All set to hit the temples? Happy visit!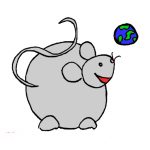 If you find our blog useful, please consider making a hotel or flight booking with our affiliate links. Happy travels!