Last updated on December 5th, 2018
 Markets (Phsar) Shopping
Phsars, literally "markets" are where Cambodians purchase anything from fresh fish and vegetables, tools for home improvements, jungle knifes for field expeditions, bibelots for friends and relatives, to CDs, DVDs and books. Phsars usually offer better deals than individual shops and shopping centres, although the latter would have the upper hand for electronics. Phsars tend to specialise in specific types of goods (garments, textiles, shoes, bags, watches, food etc) but usually offer a wide range of products. Those who have no taste for bartering and haggling are better off shopping at commercial centres where there is less variation in prices… It is best to shop at sun rise (6 or 7 am): shopkeepers believe that the first customers are to be treated fairly as they are good omen for the rest of the day. Foreigners tend to be charged higher prices than Cambodians, but it will probably not more than a few dollars. Unlike in other Southeast Asian countries, the starting price is customarily in the range of 10-20% of the going price. Thus, if a salesperson asks for ten dollars, his/her minimum price is closer to seven dollars than it is to five.
Phsar Chas
Go for: Souvenirs and books
Phsar Chas, the "Old Market", was constructed in the 1920s, and together with the Grand Hotel form the historic core of the city of Siem Reap. The French Quarter and the provincial administrative offices were organised around Phsar Chas, with roads leading to the temples constructed at about the same period. Whether shopping is your thing or not, you'll probably end up at the Old Market. Phsar Chas mainly caters to foreign visitors, although local city slickers are able to bargain Cambodian prices for the odd souvenir or t-shirt. There is a small vegetable and meat section, as well as some food stalls for freshly squeezed juices and basic dishes. Discerning collectors will be able to discover fine textiles, scarves, statues, carvings among the jumble of mass produced cheap trinkets for friends and families. There are precious rare curios to be found, as long as one as enough time to explore. Our preference goes to the book stalls which offer essential readings on Angkor and Khmer culture at a fraction of the prices one would find elsewhere.
Phsar Kandal
Go for: Clothes and seamstresses, bags, shoes, souvenirs and a small food court
Phsar Kandal and the Chinese style shophouses located to the North of Siem Reap's French Quarter were completed just a few years ago. Clothes and souvenirs are generally more moderately priced than at Phsar Chas. However, moderate bargaining remains necessary: US $2-3 for a t-shirt, US $4-6 for a pair of sandals, US $10 for khaki trousers, US $10 for a backpack etc. Try shopping for fabric and have the seamstresses copy your favourite clothes with dazzling dexterity. We are regular patrons at the small food court which serves a variety of Khmer and Asian dishes at reasonable prices. Kandal Market does not have the historical charms of the Old Market but is a convenient shopping experience.
Phsar Leu Thom Thmey
Go for: Groceries, textiles, everyday clothes, mosquito nets, electronics etc.
Phsar Leu, the original Upper Market, a wooden structure, was torn down to be replaced by the "New Big Upper Market", located along National Road 6 on the outskirts of Siem Reap. Phsar Leu is the largest market in Siem Reap Province and is a favourite of local city slickers for grocery shopping, shopping for everyday clothes, kitchenware, textiles by the metre (both imports and Khmer silk), camping equipment for out of town excursions, spare parts for motorbikes and cars, electronics, home improvements tools and just about anything. Some visitors may venture here for an occasional snapshot of the "Real Cambodia", as guidebooks in the know would advertise. A bit of sign language and our tips on Khmer idioms should be adequate for straightforward purchases and a true local shopping experience.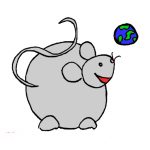 If you find our blog useful, please consider making a hotel or flight booking with our affiliate links. Happy travels!